Mariam Almheiri Witnesses Opening Of New E& Enterprise Innovation Centre – UrduPoint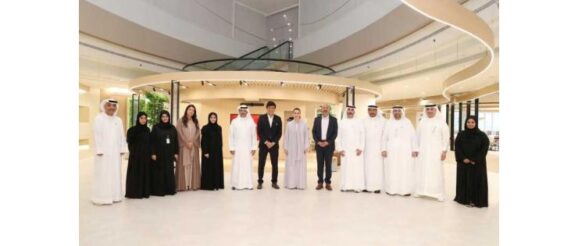 DUBAI, (UrduPoint / Pakistan Point News / WAM – 17th Jul, 2023) Mariam bint Mohammed Almheiri, Minister of Climate Change and Environment, led the inauguration of the e& enterprise Innovation Centre.
The centre aims to showcase the most recent and significant innovative digital solutions across various sectors, reinforcing the company's visionary approach towards leveraging technology and fostering innovation to support environmental conservation and climate improvement.
The launch of the Innovation Centre aims to establish a more attractive environment for customers and the technological system and demonstrates its commitment to strengthening the role of technology in supporting sustainability efforts, in line with the UAE's efforts in enhancing commitment to sustainability and declaring 2023 as 'Year of Sustainability'.
The opening ceremony took place in the presence of Mohammad Saeed Al Nuaimi, Acting Undersecretary of the Ministry of Climate Change and Environment, and other dignitaries from the ministry, along with Hatem Dowidar, Group CEO of e&; Masood M. Sharif Mahmood, CEO of etisalat by e&; Khalifa Al Shamsi, CEO of e& life; Salvador Anglada, CEO of e& enterprise; Obaid Bokisha, Group COO of e&; Dena Almansoori, Group CHRO of e&; Sabri Ali Yehya, Chief Technology Officer of e& international, and other members of the e& delegation.
Almheiri praised the Innovation Centre following its completion and ability to offer technical and sustainable solutions for various operations of e& enterprise.
She said, "The new Innovation Centre represents a pioneering step in enhancing digital transformation in various entities in the state, supporting the technological development system, which is one of the most important strategic trends to push sustainability efforts and streamline many traditional operational processes, contributing to environmental conservation and rationalising resource consumption."
Almheiri added, "e& enterprise's efforts reflect their leadership in harnessing modern technology and digital solutions in enhancing sustainability, which is highlighted in the company's commitment to achieving climate neutrality across its operations in the UAE by 2030.
"During the Year of Sustainability in the UAE and as we look forward to hosting the COP28 Conference in November, we encourage more institutions to adopt the same approach and work from now on to employ technology and digital techniques in developing their business while at the same time reducing the carbon footprint of their operations to cooperate in achieving climate neutrality in the UAE by 2050.
She affirmed that achieving this goal requires the concerted efforts of the government, the private sector, and all members of society for a more sustainable future for the UAE.
The Innovation Centre has attracted over 1,000 visits from notable institutions and organisations since its inception. With 90 percent of visitors being C-level executives, the centre has demonstrated its broad appeal and influence in driving digital transformation across government, enterprise, and SMB sectors.
Dowidar said, "Recognising the UAE's visionary leadership, we have always strived to contribute to shaping the future while being at the forefront of sustainability, innovation and technology. This has also helped foster collaboration in seeking innovative solutions to challenges such as energy, climate change, and other pressing issues related to sustainability.
"The Innovation Centre will be a dynamic hub that showcases how digital can really come to life while at the same time having the extraordinary opportunity to experience the transformative power of e& solutions applied to real-world scenarios. Through collaboration, creativity, and curiosity, we will create new possibilities together, pushing the boundaries to usher in a new era of prosperity."
Anglada, in turn, said, "The Innovation Centre represents a significant milestone as it revolutionises our approach to serving customers and technology ecosystem partners using cutting-edge technologies. We invite everyone to witness the realisation of digital solutions and explore endless possibilities. Our goal is to establish a new industry benchmark by prioritising solutions that drive growth for governments and enterprises. We achieve this through seamlessly integrating digital technologies in the digital era."
e& has pledged its commitment to achieving net zero within its Group's operations in the UAE for Scope 1 and 2 emissions by 2030, and it also distinguished itself as the first private sector entity in the UAE to join the UAE Independent Climate Change Accelerators (UICCA), demonstrating its unwavering commitment to active engagement in global climate action.
In 2019, the Innovation Centre was launched under the "Etisalat Digital" brand, now known as e& enterprise.