Mariko Kowalski brings tradition, innovation to City Hall display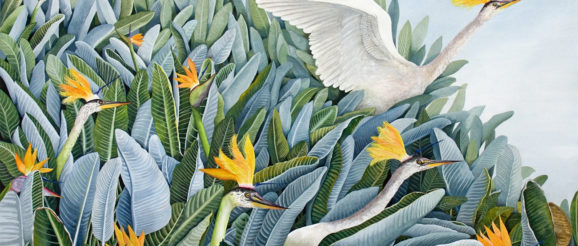 By Joshua Wood | [email protected]
For local artist Mariko Kowalski, two periods of her life united to restart an impressive career. After setting aside her creative work for years, a family passion for art took hold and helped launch the most recent phase in an art career that has spanned continents and genres. Now, her work will be on display at Cottonwood Heights City Hall for the community to enjoy.
Prior to moving to Utah, Kowalski had obtained a degree in graphic design in Tokyo, Japan and a master's degree from Tokyo University of the Arts in visual design. She then worked as an illustrator and graphic designer in Tokyo for 10 years.
After years of schooling, a family tradition of art that was passed on to her from her mother, and work in art and graphic design, Kowalski took a break. She met her husband, got married and moved from her native Japan to Utah in 1998. She and her husband started a family, and Mariko focused much of her time on her children.
"I had painted on and off with two children and a busy family life," Kowalski said. "I was mostly doing crafts instead of painting."
Then in 2006, Kowalski started painting again. She had worked with acrylics but grew frustrated with how quickly they dried and moved to watercolors. She had given up on oils due to an allergy to an oil painting medium. "It was not my paint," she said.
Things started to take off from there. In 2007, Kowalski started teaching her daughter to paint. Those lessons paid off. Two years later, Kowalski's daughter won second place in a national competition and received her award at a ceremony in Washington, DC. After that, her neighbors started asking her to teach their children.
"I have been teaching children and adults at my home studio since 2009," Kowalski said.
As for her own work, Kowalski started painting more regularly, mainly portraits. "I loved to paint people, but it was hard to find models," she said. "Models would get nervous and not show a natural face." So she moved on to other things she loved to paint, namely flowers, plants and birds. These subjects seemed to come naturally to her.
"I am from Japan," Kowalski said. "The history of Japanese painting shows a lot of flowers, plants and birds. My mother also painted, so I thought it would be natural for me to paint those."
The images Kowalski creates of birds seem ready to take off from the paper. In her work "Birds of Paradise," lifelike birds emerge from the namesake plants. In another work portraying a peacock, an ornamental flower background surrounds a bird so well depicted it looks like it might come to life.
"I use Japanese watercolor paints, which are much thicker like gouache paints, and I also use transparent watercolor paints," Kowalski said. "The paints I use have a good consistency and can be used with several different techniques."
Kowalski's painting "Becoming of Age" received an Award of Excellence at the Utah Watercolor Society spring show, and "Peacock in Autumn" was selected to the society's fall show. She has had several paintings selected to the Springville spring and fall art shows, the Annual Utah State Art Exhibitions at Rio Grande and the Hogle Zoo Art Show. She received several awards at those art shows.
Kowalski's work will be featured at Cottonwood Heights City Hall throughout the month of November. A portion of her work will be taken down to make room for a holiday display that starts in mid-November.