Mars Petcare 'unwraps' innovation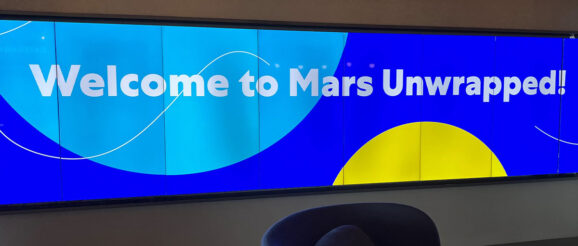 NEWARK, NJ. — The company most known for its confectionary creations opened its doors and shared a behind-the-scenes look at innovation from Mars Wrigley, Mars Food and Mars Petcare at an event dubbed "Mars Unwrapped," held at its Mars Wrigley US headquarters in Newark on Nov. 3. The showcase of products and innovations across its confectionary, food and pet care brands highlighted the company's mission to be known as a business leader throughout the industries it serves by "transforming, innovating and evolving to make a positive impact on the world."
Anton Vincent, president of Mars Wrigley North America, and Jessica Adelman, senior vice president of corporate affairs for Mars North America, opened the doors and welcomed visitors to take a rare behind-the-scenes look at some of the programs and products the company is proud of. Presentations included a breakout session on the Mars Wrigley and Microsoft partnership using Artificial Intelligence (AI) technology, a cooking demonstration featuring new products from Mars Food & Nutrition, and a panel discussion featuring leaders from Mars Pet Nutrition, Mars Veterinary Health and Royal Canin.
Sharing perspectives on the pet care side of the business were Racquel White, vice president for corporate affairs for the Royal Canin division; Jean-Paul Jansen, chief marketing officer of Pet Nutrition North America; Molly McAllister, DVM, MPH, chief medical office for Mars Veterinary Health; and Daryn Brown, regional president of Royal Canin. Throughout discussions about the pet nutrition and veterinary side of the Mars business, it remained clear that the focus starts and ends with four-legged friends. 
"We strive to make a better world for pets because we believe they make our world better and it's the least we can do for them," White said.
During "Mars Unwrapped," Mars Petcare showed off its extensive pet food brands, all determined to support pet wellbeing.
As a nutrition-focused company, Mars Petcare — with its Pedigree, IAMS, Cesar, Sheba, Greenies, Temptations and NUTRO brands — and its separate Royal Canin division, featuring Royal Canin, Nom-Nom and EUKANUBA brands, provides a full range of nutrition products designed to keep pets happier and healthier.
"We work in a pet care division that has a phenomenal purpose on creating a better world for pets and each one of us play a different role on how we bring that to life," Brown said. "At Royal Canin, we bring precise nutrition to life. We do that in a very specific way working with our veterinarians and our breeders."
The Royal Canin brand contains a complex portfolio with more than 250 diets. The company works hand-in-hand with veterinary professionals to develop these formulations and to help pet parents find the nutrition solution that best suits their pets.
"Royal Canin focuses on science-backed foods developed alongside nutritionists and veterinarians," White said. "These brands focus on nutrients over ingredients."
In January, the brand launched its new dog food line SKINTOPIC™ that was designed to help manage canine atopic dermatitis. One in 10 dogs suffer from atopic dermatitis — in fact, around 20% of a veterinarian's workload is spent dealing with this common skin condition, according to the company. A clinical trial showed that nutrition can help reduce itch, as well as medication reliance, caused by atopic dermatitis, which led to the development of the product. The line includes dry and wet formulations.
Royal Canin showcased its slew of functional nutritional offerings at "Mars Unwrapped," including its new SKINTOPIC™ line.
"We launched SKINTOPIC to solve a common problem through nutrition," Brown said. "It creates a stronger immunity barrier in the skin. This is one solution we've developed to help veterinarians with this common issue they see on a regular basis."
Working alongside veterinarians is a company-wide mission which has resulted in Mars Petcare being a leading veterinary health provider through its Mars Veterinary Health division, which features an international veterinary network of over 2,000 pet hospitals and diagnostic services including Banfield and BluePearl.
"What's unique about Mars Petcare is that we have nutrition, and we have care," Jansen said. "We have a complete view of some of the pain points that pet parents go through in their pet parent journey. Specifically, one of the pain points is finding the right information about how to feed your pet and what to feed your pet — answering questions about the health and wellbeing of your pet."
In an effort to address that pet parent need, the company launched its PETconnect by IAMS™ service in late August. The free, digital service will help provide pet parents with general advice on their pet's nutritional and wellness needs by connecting them with a licensed veterinary technician or nutrition advisor. If necessary, the pet parent can be referred to a veterinary health provider for an appointment, of which the first visit will be covered for free.
"Consumers are looking for the right information and we have a responsibility as a global pet care business to make sure the right information is there for the pet owner to access," Brown said.
Connecting pet parents with the information they need to better take care of their pets also translates to making nutritional recommendations. With so many pet foods on the market, all with a wide range of functional and nutritional benefits, Mars Petcare offers veterinarians a helpful tool to help find the best options. 
The company's Smart Reco app provides a tool for veterinarians to use to help them recommend the best nutrition for pets. The veterinarian inputs the age, body condition, breed, pre-disposition, pathology and other information about the pet, and the app makes recommendations about the ideal diets available. 
"It goes beyond being a typical product finder — based on the characteristics of the pet," White said. "The app matches up the pet's characteristics to the nutrients of the diet that are needed for that specific animal."
During "Mars Unwrapped," Mars Petcare highlighted its innovations to help support pet health and wellness, from nutrition to veterinary technologies. 
Brown added, "We use Smart Reco to help augment the veterinarian in helping to make the right diet recommendation to the pet parent." 
In building off the need for specialized nutrition, Royal Canin developed its Individualis™ diet program. The diet is driven by an algorithm that can come up with 6,000 potential formulas. 
"Every dog and every cat have different requirements — it's not a one solution solves all," Brown said. "We take multiple inputs from the pet parent to come up with a very precise diet."
The diet is then produced at one of the manufacturing facilities and shipped directly to the consumer through the veterinarian recommendation. 
Purpose over product
As a purpose-driven company, Mars Petcare strives to offer support and services to pet owners, and potential pet owners, beyond the food they sell. The PEDIGREE Foundation exists to help find as many homes as possible for pets in shelters. The Foundation helps fund shelters, cover adoption expenses for potential pet parents, and  pair pets with potential homes.
A recent PEDIGREE program called Rescue Doodles utilized AI to pair families with new furry family members. Children submitted doodles of their dream dog and AI and the Adopt a Pet program helped pair the "doodle" with potential adoptable pets in the area. 
In an effort to further support pet owners, especially those living in urban areas, Royal Canin recently partnered with Uber Pet during the annual Take Your Cat to the Vet campaign led by cat advocate Hannah Shaw. For urban pet owners, the inconvenience of regular veterinary visits can be intensified by transportation challenges. The partnership with Uber Pet aimed to alleviate the transportation barrier for cat owners in major cities by making a car ride to the vet more accessible.
The campaign provided Uber vouchers for up to $10 off the first eligible 5,000 rides to the veterinarian taken with Uber Pet in 15 major US cities.
"Connecting the urban pet owner with the veterinarian is important," White said. "It's part of our mission to make this pet care ecosystem more cohesive."
Another purpose-driven initiative connecting the pet care ecosystem is its SHEBA HOPE GROWS™ program. Since 2019, the program has been supporting the restoration of coral reefs around the world. Twenty-five percent of the ocean's fish rely on coral reefs, and without restoration projects, 90% of the ocean's reefs will be gone in the next 20 years, according to the company. 
In July, during Coral Reef Awareness Week, SHEBA announced its most recent partnership with nonprofit Kuleana Coral Reefs, an organization that restores and protects coral reefs in Hawai`i. SHEBA is supporting more than 30 coral reef restoration projects around the world. The company also partnered with The Maldives Coral Institute as part of SHEBA's expansion into Canada.
"It's a long-term commitment," Jansen said. "More coral today means more fish tomorrow, which is good for people, the planet and for our cats.
"If we are all about creating a better world for pets it needs to be a sustainable world," Jansen continued. "We love the business performance of our brands, but performance without purpose is meaningless. With all of our brands we are embracing a positive difference and trying to make the world more sustainable."
Sustainability efforts for Mars Petcare and its Royal Canin division range from ingredient sourcing, responsible production practices and sustainable packaging goals. The company sustainably sources its Omega 3 EPA and DHA fatty acids from microalgae instead of from fish, and its production facilities send zero waste to landfills. The Royal Canin side of the business is on its way to being carbon neutral by the end of 2025.
On the packaging side, Mars Petcare was one of the first companies to join the Pet Sustainability Coalition (PSC) to make concerted efforts to move toward the use of more sustainable packaging — 100% of Mars Petcare's canned and multipack materials are now recyclable. 
With the help of PSC, the company is working toward making 100% of its packaging recyclable, reusable or compostable.
"At Mars, we have a global responsibility from a sustainability standpoint," Brown said.
The company's sustainability mission reaches beyond internal practices and corporate goals; it travels throughout the supply chain. 
"We spend a lot of time understanding what our suppliers are doing — we are mapping it out end to end," Brown said. "There is a lot of focus on connecting the supply chain end to end and understanding where we can have impact. There are great strides being made, but there's more that we need to do and we're working toward that."
White added, "What we like to say to our suppliers is, 'How can we get there together?' Sustainability is an ongoing process — and it's never something any of us will 100% get to. 
"Sustainability is something we all strive for," she said. "It's not always the easiest thing to achieve, but we are making steps where we can."