MB&F's Horological Machine 11 'Architect': Where Watchmaking Meets Architectural Innovation – IMBOLDN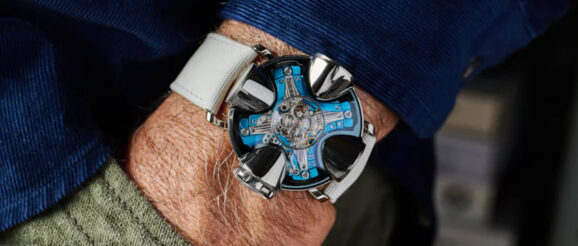 MB&F, the renowned horological innovator, has once again pushed the boundaries of creativity and craftsmanship with the release of their latest masterpiece, the Horological Machine 11 'Architect'. This is the eleventh installment in the Horological Machine series, and it boldly embraces the theme of architecture, redefining what a wristwatch can be.
Drawing inspiration from the architectural marvels of the 1960s and 1970s, the HM11 showcases an exquisite blend of design and engineering. The watch features a central atrium under a domed sapphire crystal, reminiscent of domed skylights and bubble houses. The atrium houses four distinct "rooms," each with its unique purpose.
The first room displays the time using twelve floating orbs, while a flying tourbillon graces the central atrium. The second room serves as a power reserve indicator with five floating orbs, and the third room boasts a mechanical temperature display in either Fahrenheit or Celsius—a true engineering marvel. Finally, the crown, which is far from ordinary, allows you to set the time and offers a mesmerizing view of the watch's movement.
What sets the 42mm MB&F's Horological Machine 11 'Architect' apart is its ability to rotate its "rooms" to face the wearer, thanks to a wrist-mounted frame. Each rotation winds the mainspring, providing a substantial 96-hour power reserve. The watch's case, made of Grade 5 titanium and featuring six sapphire crystals and 19 gaskets, is a testament to MB&F's commitment to precision and innovation.
The HM11 Architect is available in two stunning variations: one with blue PVD'ed movement plates and a white fabric strap, and the other with rose-gold-plated movement and a khaki strap. Limited to just 25 pieces of each color, this horological masterpiece can be yours for $230,000.
MB&F continues to astonish watch enthusiasts and collectors with their bold and visionary creations, and MB&F's Horological Machine 11 'Architect' is no exception. It's a wearable work of art that blurs the lines between timekeeping and architectural design, appealing to those with a passion for both craftsmanship and innovation.
In other horology-related news, check out the MING 37.04 Rose Gold Monopusher.
MB&F's Horological Machine 11 'Architect'