MCM's Sungjoo Kim on Driving Innovation During Unprecedented Times – WWD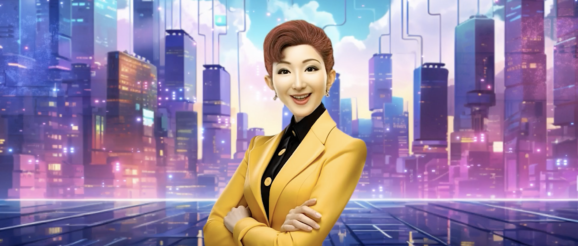 Sungjoo Kim, chairperson and chief visionary officer at MCM Group, delivered her speech on how to drive innovation during unprecedented times via her avatar during the WWD x SKP Fashion & Beauty Global Summit in Chengdu.
The digital revolution, ensuring diversity, inclusion and sustainable operations, as well as dealing with an increasingly demanding consumer, compounded by socioeconomic and geopolitical disruptions, are some of the key areas she has been working on.
"I'm joining you here from the metaverse, unfortunately. I'm unable to join you all physically; however, I'm here with you virtually and in spirit. This is not unintentional. However, I personally believe that the dynamism and innovation of the metaverse truly represent our vision for intelligent luxury, smart luxury," Kim said.
Related Articles
She touted that it can be conveyed through the idea of MSSL, which stands for being a Metaverse-driven, Sustainable, Smart Luxury brand.
"By building our MCM MSSL, we can deliver client satisfaction with speed and spontaneity through a sustainable process driven by responsible buying and customer-centric marketing. For us, smart also stands for seasonless movement, ageless, responsible, and transformative, and most importantly is inspired by our credo: health is the new wealth, time is the new luxury, and creativity is the new power," she added.
MSSL also helped MCM prevail during the COVID-19 pandemic, in addition to a three-tier approach the brand implemented.
The first entails the optimization of the business operations, said Kim, which started with supply chain, production, and merchandising through the principle of seasonless-ness.
"In short, we minimized the production of our newness and focused on our carryover lines and best sellers, allowing the stock to move from season to season, which prevented excess inventory and ultimately became 60 percent of our revenue. The range of our newness was also narrowed to feature fewer skus [stock keeping units]. In total, more styling options were available between newness and carryover and had a direct impact on our supply chain making it more sustainable."
The second tier covers distribution, which featured an expansion of the e-commerce business whilst brick and mortar contracted.
Last but not least, Kim hailed "the pioneering mission impossible mindset of our team drove strong morale through an anything is possible spirit."
"Our retail teams maximized clienteling, as well as in-store engagements through catwalks, styling classes, and individually produced content. This passion touched clients' hearts and enabled the brand to not only survive but thrive through agile smart executions. I'm very happy to share that we achieved one of our highest EBITs [earnings before interest and taxes] during the pandemic," said Kim.
Looking ahead, Kim believes that the smart 3.0 concept titled "multiverse retail," where the metaverse converges with Web3 and AI technologies in order to provide unparalleled value, will be a game changer.
"We will introduce 360-degree online and offline environments connected through the metaverse offering consumers the freedom to interact, engage and immerse. This is also comprised of three important pillars," she said.
To begin with, MCM partnered with Caliverse, a VR-based, avatar-driven environment that enables consumers to experience collections within a hyper-real 3D space.
"Within our virtual store, visitors can explore, discover, purchase, play, and style their avatars with MCM. We can even host events such as a virtual catwalk. Overall this will gamify the selling ceremony and provide a more fun, engaging, and interactive multidimensional shopping experience," she noted.
"Next, we have NFTs. Through the metaverse, NFTs can provide new products and services such as proof of authenticity, ownership, assurance, ease of resale, and rewards, which is the approach we're taking as the first step. In fact, we recently became a member of the Aura Blockchain Consortium, a nonprofit association of luxury brands investing in Web3 In order to provide enriched experiences for consumers," said Kim.
Lastly, she believes that the multiverse retail concept is more sustainable as it will reduce carbon footprint while enhancing the consumer experience.
"We will also minimize the production of samples through 3D virtualization tools and are in the stage of adopting AI to optimize our sourcing production and merchandising by predicting demand in order to maximize profitability," she said.
During the process, the relationship between the brand and the customers is changing. Kim said she no longer regards her clients as consumers but members of MCM's community.
"In essence, Web3 is a creator economy, where consumers become co-creators of the brand. Within the metaverse, everyone can be a designer, stylist, content creator, and ambassador whilst others are more advanced than us and we have a long way to go. We are committed to providing more engaging, sustainable, and customer-centric experiences and aim to confidently pursue this purpose-driven direction for our shared earth and future generations worldwide," concluded Kim.
Sabine Brunner, president and global commercial and brand officer at MCM, who attended the summit in Chengdu, added that the Caliverse, which is funded by the South Korean conglomerate Lotte Corporation, is targeting to launch in June 2024.
"It is probably the most advanced technology. It's not just to be in a virtual world; what is very interesting about the Caliverse is that there's going to be a lot of real estate to sell for a lot of different brands. There are already ongoing discussions with many brands. What will be interesting is the connection between the virtual world and the real world. In the store that we're working on for MCM, of course, you can do a lot of things virtually. But the idea is also that whenever you buy a specific product, you will also have it delivered to your home.
"I think as a first step, we all believe that the metaverse is not going to be the transformation, and is not going to be an immediate business. Everybody has tried. We have tried a few times already without any success. But to us, this is really a direction that we cannot ignore. We have to understand that this is a way to really communicate to this new generation of consumers and is a great way to constantly interact and to get to know them. For us, these platforms are really the possibility for the best way to interact with them," added Brunner.