Medtronic to invest Rs.3,000 crore in engineering and innovation centre in Hyderabad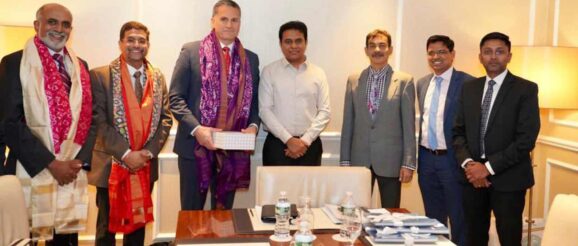 Hyderabad: In a significant development for the healthcare technology sector in India, Medtronic PLC, the Dublin-based global leader in healthcare technology, announced an investment of over $350 million (approximately Rs.3000 crore) to expand the Medtronic Engineering & Innovation Center (MEIC) in Hyderabad.
MEIC is Medtronic's largest research and development (R&D) centre outside of the US. The investment is part of Medtronic's overall global R&D led innovation and growth strategy. Medtronic supports the Telangana government's efforts to position Hyderabad as a global hub for healthcare technology research and innovation.
The announcement came after Medtronic leaders Mike Marinaro, Executive Vice President & President, Surgical, Mani Prakash, Vice President, Enterprise R&D, and Divya Prakash Joshi, Vice President & MEIC Site Leader, met IT and Industries Minister KT Rama Rao in New York.
Jayesh Ranjan, Principal Secretary, Industries and Commerce, and Shakthi M Nagappan, CEO, Telangana Lifesciences, were also present.
This investment builds on the initial investment of $160M in MEIC that was announced in 2020 and aims at expanding the company's footprint in India. MEIC currently employs over 800 people, primarily engineers, and is expected to grow to over 1500 over the next five years with the investment announced on Thursday.
With this expansion, MEIC aims to leverage the sizeable pool of diverse and skilled talent in India involving engineering, mobile apps, application and desktop software, cloud / web apps, data engineering, embedded software, product security and cyber-product security. The investment will support in key healthcare technology areas like robotics, imaging and navigation, surgical technologies, and implantable technologies, according to an official statement.
"Telangana has been a front-runner in the field of life sciences and was also one of the first States in India to recognise medical devices as a high-potential and high growth sector. The expansion of MEIC in Hyderabad is a testament to the city's robust ecosystem and Hyderabad's growing prominence in the global med-tech sector. We are thrilled to continue our support for Medtronic's growth and look forward to their continued contributions to healthcare innovation in the state and country," Rama Rao said.
"India is known as a global hub for technology innovation, and we believe in India's potential as a growing market for healthcare innovation. Hyderabad has proven to be a strategic location for Medtronic, and we are proud to be collaborating with the Government of Telangana on this major investment in the country. We are committed to investing in India's healthcare ecosystem and delivering innovative solutions that improve patient outcomes," Mike Marinaro, Executive Vice President & President, Surgical, Medtronic said.
"Investment in R&D is the foundation for innovation and progress in the healthcare technology sector. It enables us to improve patient outcomes, enhance healthcare quality, and drive economic growth. Over the years, Govt. of Telangana's efforts have positioned Hyderabad as an innovation hub and healthcare ecosystem enabler. That is why we are excited for the future as the investment will unlock greater potential for the center by fuelling innovation with activities contributing to the technology pipeline and creating more job opportunities," Divya Prakash Joshi, Vice President & MEIC Site Leader said.
During the meeting, the Minister provided the Medtronic leadership team with an overview of various new developments and initiatives taken by the Telangana Government to promote the healthcare technology sector. The Minister reiterated the Telangana Government's commitment to supporting the growth of the healthcare technology sector in the State and facilitating such expansion projects.