Morningstar Celebrates 25 Years of Solar Innovation at Intersolar Europe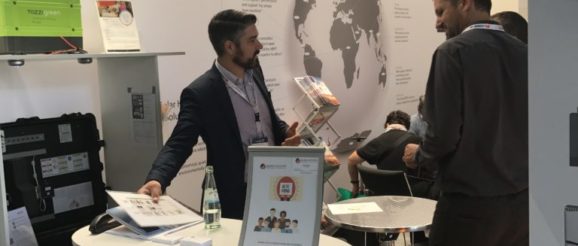 Morningstar Celebrates 25 Years of Solar Innovation at Intersolar Europe
Morningstar team set up shop in Munich at the largest solar event in the industry: Intersolar Europe on June 20-22.  During those three days we introduced three new-technology initiatives to our customers and followers:
MultiWave high frequency inverter/charger—representing an all-new topology, MultiWave is expected to transform off-grid solar installation with the agility of a high-frequency inverter and the dynamic power and stability of a low-frequency type.  MultiWave is capable of supporting off-grid back-up, and grid-connected systems, in a platform that's much easier to install.  MultiWave demonstrations were the popular centerpiece in the Morningstar booth, running almost back-to-back, and there's a list of customers eager to take possession of them when they arrive later in 2018
Essentials Series charge controllers—with the Morningstar Professional series a fixture in renewable energy systems globally, inevitably there's demand to use them in lower-cost residential, light commercial, marine and RV systems where the same quality is highly desirable but there's less of a need for advanced features.  Enter the Essentials Series, components based on the acclaimed ProStar line but with fewer features and a two-year warranty—and perfect for smaller systems that still demand premium quality.  One of our engine
er customers, Chris Rollins, picked up several Essentials controllers to bring back to Africa so he could "learn pico solar and make systems at half price."
EnVision monitoring software—along with MultiWave power and Essentials innovations of scale, Morningstar showed the Envision cloud-based web platform for system monitoring.  It's scalable and makes it possible for users to simultaneously oversee a network of thousands of energy system installations for performance, faults and alarms.
On another note, we also showed SFC/Efoy's advanced fuel-cell generator for remote powering applications, using Morningstar's SunSaver charge controller. It drew a crowd and a lot of interest in the technology, as everyone could appreciate a portable power unit that can be left on a mountaintop or sea platform for years without any fueling or maintenance.
Our receptionon Thursdayevening, June 21srt, was a chance to show off all the new innovation along with thanking our loyal customers for their 25 years of support.  We were gratified by the packed booth and friendly, enthusiastic faces there to help celebrate our 25thanniversary as a leading solar brand, and are looking forward to the next 25!