Mosti committed to boosting the development of science, technology and innovation in Penang | Buletin Mutiara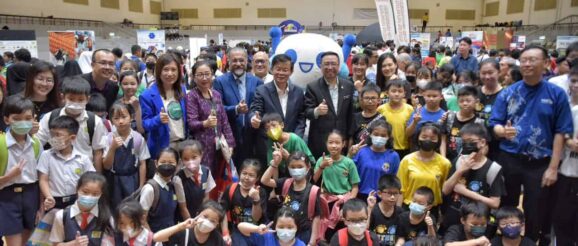 THE Ministry of Science, Technology and Innovation (Mosti) is keen on strengthening its ties with Penang by materialising more initiatives for the development of science, technology and innovation (STI) in the state.
Minister Chang Lih Kang said Penang is one of the states that play a significant role in the development of STI in the country.
"In the past, we have worked closely with agencies such as the Yayasan Inovasi Malaysia (YIM), Malaysian Research Accelerator for Technology and Innovation (MRANTI), Cradle Fund and the Malaysian Technology Development Corporation (MTDC) to provide platforms for local entrepreneurs in Penang to plan and execute innovative ideas to benefit the community at large.
"We have also been supporting Tech Dome Penang in its annual initiatives, be it from educational programmes or exhibitions.
"We have always and will continue to support it in the future," Chang said in his speech after attending the second edition Penang STEM Showcase 2023 at Han Chiang High School in Jelutong today.
The programme, which officially starts today, will feature various activities, such as the Grand STEM Challenge, Mini Rubic Cube 2023 Competition, 3D design competition, Corporate Technology Showcase, Education Booths, STEM Innovations Showcase Excel Hackathon and many others.
The first part of the programme, which was held on May 12 and May 13 this year at the UOW Malaysia KDU Penang University College in Batu Kawan, catered to an impressive turnout of 9,000 students.
Meanwhile, Deputy Chief Minister II Jagdeep Singh Deo, who oversees the Human Capital Development, Science and Technology portfolio, hoped that this edition could attract 20,000 visitors to the school.
The programme will end tomorrow (Aug 26).
Chief Minister Chow Kon Yeow, who was also present, lauded Mosti, Han Chiang High School, sponsors and partners for collectively playing a role in spearheading such initiatives.
"This initiative is important because it helps instil interest in STEM (Science, Technology, Engineering & Mathematics) among the students.
"Industry experts have a significant influence on such programmes because, without their involvement and intervention, it is impossible to make this programme a success.
"Their skills and years of experience will surely be crucial," Chow said in his speech.
He also expressed his heartfelt appreciation to the sponsor companies, namely Flex, Intel Technology Sdn Bhd and Jabil for being the backbone of the programme.
When the showcase ends tomorrow (Aug 26), Jabil will donate two robots, which were featured at their booth, to Tech Dome Penang. The robots will be placed at Tech Dome Penang with the hope that they will spark the students' curiosity at the centre.
The value of the robots, Dobot Collaborative Robotic Tic Tac Toe and Robot Palm were estimated to be around RM100,000.
Meanwhile, Flex has also donated machines worth USD 200,000 to Tech Dome.
Also present during the event were Mosti secretary-general Datuk Dr Aminuddin Hassim, Han Chiang board of directors' chairman Datuk Ooi Soo Hing and Air Putih assemblyman Lim Guan Eng.
Story by Kevin Vimal
Pix by Darwina Mohd Daud
Video by Noor Siti Nabilah Noorazis