Mukesh Ambani unveils vision for Reliance Industries' future: Creating value and innovation – The Hindu BusinessLine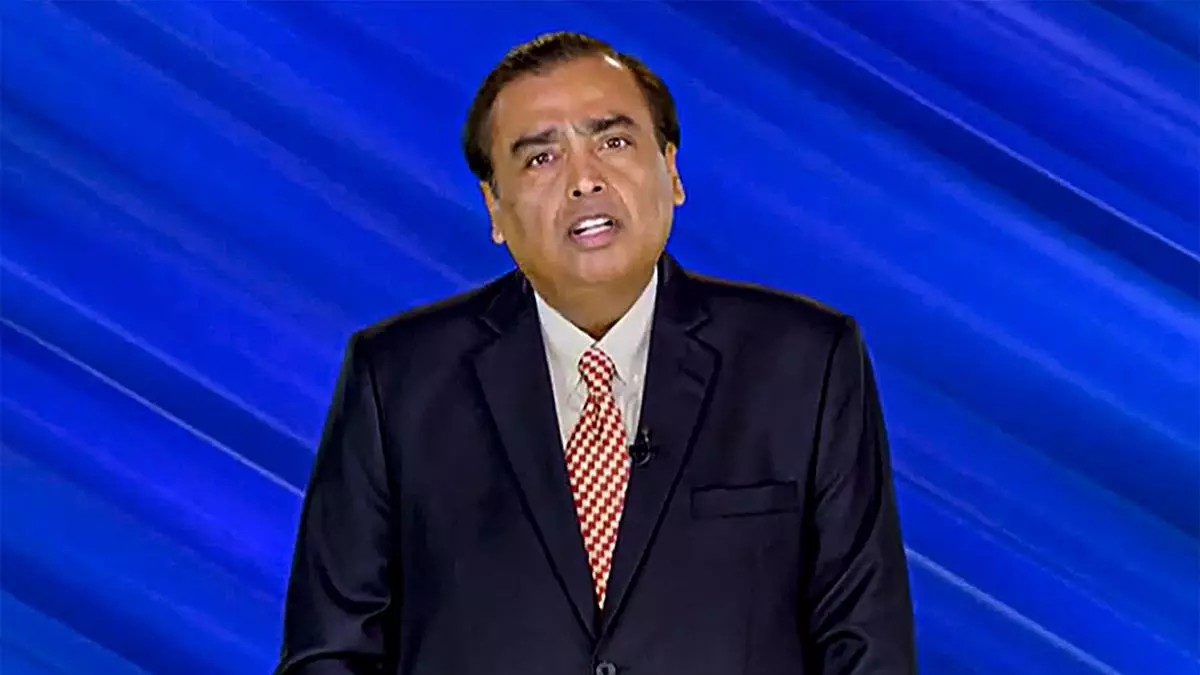 Reliance Industries' Chairman and Managing Director Mukesh Ambani laid out the blueprint for his group companies including 100GW of renewable energy generation by 2030, entry into the insurance sector through Jio Financial Services (JFS), and a slew of initiatives around 5G and Artificial Intelligence under Jio Platforms. 
"I am supremely confident that the value that your company will create for all its stakeholders over the next decade will be multiple times greater than what it has generated over the past 45 years," Mukesh Ambani said at the company's 46th AGM.
He said the new Reliance was a forerunner of the emerging new India and the $150 billion it had invested in the last 10 years had helped it in achieving "seemingly impossible goals."
"The best way to describe this new Reliance is that we have now become a new-age technology company with distinctive capabilities. Today we are a net producer of technology, large-scale deployer of technology, as well as a democratiser of technology," he added. 
Seaking about the priorities of the company in building the new energy ecosystem and the capital commitment of Rs 75,000 crore, Ambani said priority would be to deliver the fully integrated, end-to-end solar PV manufacturing ecosystem, which is expected to be completed by the end of 2025. As part of its renewable energy initiatives, the company will also be pursuing wind energy generation. "Towards this, we have made significant progress in developing a manufacturing ecosystem critical to achieving cost-efficient Wind Power generation at giga scale," he said
Jio Fin Services

Unveiling his plans for Jio Financial Services, listed last week, Ambani said that the company has been conceptualised to fill a critical gap in the financial needs of a large section of the Indian economy. 
Jio Financial is looking to potentially partnering with global players, and will use predictive data analytics to co-create contextual products with partners to cater to customer requirements, RIL Chairman Mukesh Ambani said at the AGM.
Ambani attributed Jio Financial's growth potential to a digital-first architecture, healthy capitalisation, net worth of Rs 1.2 lakh crore and strong board of management led by K.V. Kamath.
"Just like Jio and Retail, JFS too will prove to be an invaluable addition to the Reliance ecosystem of customer-facing businesses," he said 
In the digital business, Reliance unveiled a slew of new services including Jio AirFiber to be launched on September 19 and smart home services. Ambani also announced that Jio Platforms will lead efforts in developing India-specific AI models and AI-powered solutions across domains. The RIL chief also pledged the company's commitment to create up to 2,000 MW of AI-ready computing capacity, across both cloud and edge locations, while adopting sustainable practices and greener future.
5 key principles

Ambani said the future plans followed five cardinal principles aimed at creating value.
One, it deliberately chooses to be in businesses with that have large pent-up and perpetual demand, guaranteeing that it grows at a healthy rate annually over decades.  All its growth businesses, such as oil-to-chemicals, retail, and Jio and now Jio Financial met this value-creation criterion criteria.
Two, its growth was driven by creating trust and loyalty among customers by providing them with goods and services of the highest quality, leading to continuous revenue growth. "Indeed, we transform markets by constantly providing better alternatives, which win customer loyalty. And this also creates perpetual demand."
The third cardinal principle was to disrupt sectors through new technologies and innovation. "Our business operations are cost competitive because they are fully digital, agile and efficient. This unfailingly delivers larger market share, highest quality outputs and industry leading margins."
The fourth principle was growth driven by business discipline, which meant having a laser-sharp focus on prudent capital allocation and financial management.
The fifth principle was growth driven by global market potential. Ambani said that its businesses had attained leadership positions domestically and were able in a position to test the global markets now.
Ambani spoke about the importance of human talent in the value-creation process and said that the company was building a strong pipeline of "young and exceptionally competent leaders."