New communications director among recent hires by Innovation Minister Bains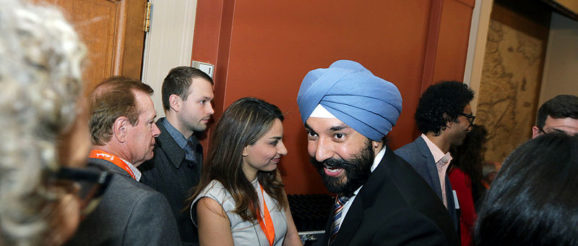 New communications director among recent hires by Innovation Minister Bains
By Laura Ryckewaert      
Plus, Hill Climbers takes a look at who's who in the Liberal, Conservative, and NDP House leaders' and whips' offices.
Innovation, Science, and Economic Development Minister Navdeep Bains, pictured May 7, 2018, at an event on Parliament Hill The Hill Times photograph by Sam Garcia
Innovation, Science, and Economic Development Minister Navdeep Bains hired a few new ministerial staffers recently, including Jean-Luc Ferland as his new director of communications. Mr. Ferland was previously a senior communications adviser and policy adviser to Treasury Board President Scott Brison on the Hill, effectively serving as the minister's press secretary. He'd been a staffer to Mr. Brison since late 2015, having started off as a press secretary before being promoted to his most recent role this past January.
This is an exclusive subscriber-only story by The Hill Times.
If you'd like to read the full article:
Already a Hill Times subscriber? Sign in here:
Reuse and Permissions:
Unauthorized distribution, transmission, reuse or republication of any and all content is strictly prohibited. To discuss re-use of this material, please contact:
Political observers expect to start seeing policy trail balloons floating this fall, and the beginning of 'persuasion advertising,' with the next federal election almost a year out.
'Coming up in the first few weeks and months it's going to be a heavy trade-focused session,' says NDP House Leader Ruth Ellen Brosseau.
The court rejection of the Trans Mountain pipeline is set to loom large over debate on the Liberals' impact assessment bill in the Upper Chamber this sitting.
As much as those talks are consuming the Trudeau government's bandwidth, it has also sent the signal to stakeholders that it's hoping to reorient some of its resources to other files as it lays the groundwork for 2019.
Their challenge is to differentiate themselves from the Liberals and say why they're better, strategists say, to build a 'compelling narrative.'
NDP MP Georgina Jolibois says she's surprised the Liberals are hoping to win her riding, as she's heard that constituents are satisfied with her work as an MP.