No power, no bridge, and a pool for a bath: Dartmoor community's innovation in a crisis – NZ Herald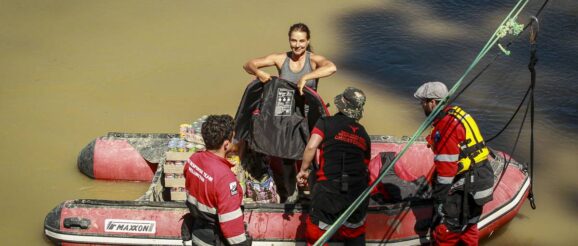 A woman living in a rural Hawke's Bay community still cut off and powerless as a result of Cyclone Gabrielle says her community has shown incredible innovation to get by day to day.
Dartmoor, about 30 minutes drive inland from Napier, has been without power for over three weeks, apart from generators shared between residents.
The community has relied on a boat and pulley system to get across the Mangaone River, where a bridge previously stood before the cyclone tore it down on February 14, cutting the community off from civilisation.
A resident, who did not want to be named, said her community of lower Dartmoor included about 26 homes.
She said she did not have running water and no one in that community had electricity, but everyone was chipping in to support one another.
"It's amazing in the community how we have developed little hubs – there is the fix-it hub and the communications hub," she said. "None of us have power. We share generators."
She said the residents had found ways to get by.
"I have a pool, and because we couldn't have a filter going [following the storm] it started to look a bit manky, but because no one had running water, they started using my pool as a bath."
She said there were varying degrees of damage to properties in lower Dartmoor, but most of that damage was to land rather than homes.
She said donations had been coming in, starting with a helicopter dropping goods donated from an F45 gym in Hastings, days after the cyclone.
Access to goods has improved with the installation of the pulley and boat system across the river, and Wattie's dropped slabs of non-perishable goods to the jetty on Tuesday, where a Civil Defence team was helping out.
The resident said there was now also a carpool system for the school run each day, using a borrowed vehicle on the other side of the river.
She said while their situation was not perfect, she felt "very lucky", considering many others had been hit much harder by the cyclone.
As of Tuesday afternoon, Unison reported there were about 1300 properties still without power around the wider Hastings and Napier districts, including Dartmoor.
Unison chairman Philip Hocquard said their focus was to get power restored quickly and take lessons from the cyclone.
"Our immediate efforts are squarely focused on restoring power to our Hawke's Bay customers and communities and rebuilding Unison's cyclone-ravaged network.
"However, it's vital that we continue to keep an eye on the future at the same time.
"The cyclone has demonstrated, in dramatic fashion, the heavy reliance that communities have on sound electricity supply for daily living."