Nokia Nepal Innovation Day 2022 Held, Help Nepal for 5G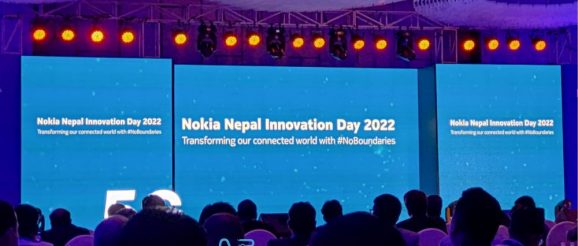 Nokia, in collaboration with the Embassy of Finland, has successfully organized Nokia Nepal Innovation Day 2022. The event took place at Hotel Marriott, Kathmandu on Friday, 5th August where the telecom vendor pledged to support Nepal for the 5G developments.
The event was joined by the representative of Nokia, those from major ISPs & telcos in Nepal, and stakeholders who discussed enhancing broadband service quality and its expansion, and cellular technologies, especially 5G.
The Finnish company made its first presence in Nepal in 2017. Since then, it has gradually increased its influence serving over 1 million households across Nepal today. The company has helped provide Nepali internet customers with high-quality fiber broadband service through customer operators.
At the event, Nokia pledged to help Nepal as the country nears the beginning of the 5G era. Speaking at the event, Nemanja Pilipovic, Market Development Lead, Asia-Pacific, Nokia said that the aim is to reach every remote part of the country with high-quality and affordable mobile and fixed broadband service. The company seeks to empower the unserved sections of Nepali societies. In Nepal, Nepal Telecom (NTC) is planning on beginning 5G trials this year.
At the Nepal Innovation Day event, Nokia brought in subject matter experts to discuss the premises of connectivity. They discussed addressing the needs and exploring ways to seamlessly connect people, businesses, and machinery. Likewise, connectivity at an industrial scale, developing new services, and driving up revenue also dominated the talks.
Themes of discussion at the Nokia Nepal Innovation Day 2022 event
Particularly, the discussions revolved on three particular themes:
5G is becoming mainstream
Mr. Amit Marwah Head of Marketing and Corporate Affairs India, Nokia also talked about unleashing digital transformation & 5G Global trends.
He said that 50% of the total 5G connectivity in the world is with Nokia in terms of the network. And 5G adoption is also going faster than the transition from 3G to 4G.
Mr. Marwah said that the low band and mid-band 5G offers a good 5G experience. At the moment, South Korea is one of the leaders in the fifth-gene cellular standard. The country accounts for 70% of the data usage on 5G. No doubt, with even faster 5G broadband, the appetite for data will only grow higher.
In the meantime, 5G handsets are also growing in circulation. In South Korea, 40% of smartphones support 5G, while in China 30% of phones are 5G capable.
India's 5G launch can benefit Nepal
5G is just weeks away from launch in India after the recent spectrum auction. And this could benefit Nepal. 5G in India would bring scale, and thereby reduce the cost. This will, directly and indirectly, have a positive impact on Nepal.
5G works on both NSA (Non-Standalone) and SA (Standalone) infrastructure. However, Mr. Marwah prefers SA, which he calls the real 5G. He shares that the standalone version brings lower latency, network slicing, low power consumption, and higher coverage. These are the advantages of SA over NSA 5G.
Meanwhile, 5G would also inspire a new range of use cases. The high-speed and ultra-reliable broadband network will have applications in Fixed Wireless (FWA), video surveillance, health care, connected ambulance, etc.

Nokia's Radio Portfolio
Nokia has digitizing services for network evolution from design, rollout, and optimization with AI/ML. It also boasts solutions for any technology such as 2G, 3G, 4G, 5G, fixed broadband, WiFi, cloud infrastructure, etc. Nokia in essence carries an end-to-end full solution for cellular and fixed broadband technologies.
It also offers capacity and coverage from macro sites to small cells with its sophisticated radio portfolio. The company adopts a broadband zero strategy which includes zero left behind, zero limits, zero-touch, and zero waste policy.
Do read: Nokia, Elisa, and Qualcomm Get Record 2.1 Gbps 5G Upload Speed
Nokia working on 6G standardization
Besides having a complete 5G network portfolio, Nokia is also working on 6G standardization. And this could make it more feasible for network sustainability and device security, plus digital inclusion.
The even higher broadband capacity of 6G could be used for holographic calls, where you will be transposed into another environment. Nokia has also teased Digital Twinning with the next-generation cellular standard. It suggests 6G would be a network with a sixth sense.
Meanwhile, Nokia had also announced to have been testing 100G PON whereas it has commercial 25G PON in many markets. Earlier, WorldLink was working with Nokia to upgrade its GPON to the advanced 10G XGS PON technology. As per the announcement at the Nokia Nepal Innovation Day, the technology is now ready for adoption and even could evolve further to 25G PON here in Nepal.
Would you love to try 5G on your phone when it launches or does 4G meet all your internet needs? Find out more on both networks here – 4G vs. 5G. Do comment your perspective on the nearing launch of the 5G trials in Nepal in the comments below.
Follow us on Facebook, Twitter, and Viber to get the latest news, and information about Ntc, Ncell, Smart Cell, and phones in Nepal.
Recommended: