Northern Ireland Fintech Leaders Collaborate with FCA to Drive Innovation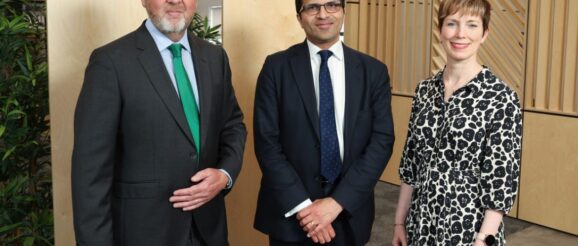 A delegation of industry leaders from Northern Ireland's financial and regulatory technology sector recently gathered in Belfast for a discussion on the Financial Conduct Authority's (FCA) role in fintech.
The meeting provided a platform for collaborative engagement, focusing on the FCA's broader responsibilities in the fintech landscape as well as its specific involvement in Northern Ireland.
Nikhil Rathi, chief executive of the FCA, visited the office in Belfast. During the gathering, fintech leaders exchanged valuable insights on the FCA's commitment to supporting the sector. Key topics of discussion included the agency's strategic goals, regulatory initiatives, and ongoing discussions with the Central Bank of Ireland to ensure favourable outcomes for both consumers and the fintech sector.
Northern Ireland has made significant strides, with the fintech industry now generating over £392million in annual GVA. Moreover, Northern Ireland's position as a hub of innovation and technology-driven financial services has been solidified with its recognition as one of the high-growth fintech regions in the UK.
Driving fintech innovation
Rathi highlighted the FCA's dedication to fostering innovation, citing the agency's pioneering efforts in establishing the Regulatory Sandbox and providing support to early-stage and high-growth potential firms. He also emphasised the agency's commitment to creating an enabling environment for fintech development, ensuring that regulations keep pace with technological advancements.
"There is a dynamic ecosystem of financial institutions and fintech firms in Northern Ireland, with vast expertise. The opportunity to hear directly from the firms and gain insights into the strengths and priorities of the sector is invaluable."
"The FCA has built a world-leading reputation for regulatory innovation. We pioneered the Regulatory Sandbox with UK firms, now copied around the world. We're the first regulator to directly support early and high growth potential firms. We value the support and input of each of the member organisations we met today and wish to thank FinTech NI and our host fscom."
fscom director Alison Donnelly added: "We see every day the innovation that is happening here, therefore it was a pleasure to introduce some of our leading fintech companies to the FCA."
"As the financial and regulatory space grows, the FCA continues to be a vital institution that is heavily relied upon both to ensure financial markets function well and to give founders and CEOs a clear understanding of how their business can grow and expand while remaining compliant.
"As a governance, risk, and compliance consultancy, we are encouraged to see this level of engagement from the FCA. We have no doubt today's session will bolster Northern Ireland's fintech sector once more."
The post Northern Ireland Fintech Leaders Collaborate with FCA to Drive Innovation appeared first on The Fintech Times.