Northwestern Mutual Opens Innovation Center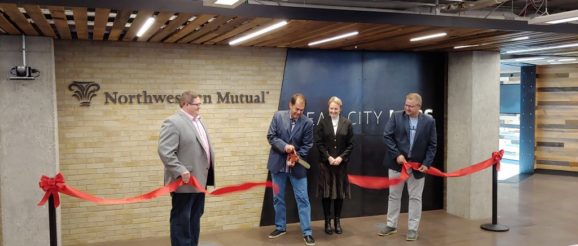 Sign-up for the Urban Milwaukee daily email
Ceremonial ribbon-cutting launches Cream City Labs. Photo by Zach Komassa.
Northwestern Mutual held a grand opening Tuesday, October 2 for its new innovation lab in Downtown, Cream City Labs.
Remarks were made on Tuesday afternoon by Jo Eisenhart, EVP & Chief People Officer of Northwestern Mutual as well as Karl Gouverneur, Vice President of Digital Workplace, Corporate Solutions and Head of Digital Innovation of Northwestern Mutual.
Located at the the company's downtown Milwaukee headquarters, Cream City Labs will advance new technology for the company while also offering spaces for mentoring and innovation groups, such as design training, hackathons, STEM programming and other focused workshops.
Inside Cream City Labs. Photo by Zach Komassa.
The new lab will be open to all employees and will also aid in the advancement of the Northwestern Mutual Data Science Institute by providing workspace for students and faculty. The lab will house Cream City Venture Capital portfolio companies, providing access to Northwestern Mutual mentors and other business resources to help startups grow.
"We are committed to innovation culturally and we want people to explore what is next," Gouverneur remarked at the opening of the event.
"Cream City Labs demonstrates our commitment to providing our employees with skills, opportunities and space to innovate and embrace an entrepreneurial mindset as we work to transform how people experience financial security."
The lab was open for viewing after a short presentation of the history of Northwestern Mutual's steps towards innovation since the company's foundation over 100 years ago, as well as a ceremonial ribbon-cutting.
According to a press release, the industrial look of the lab signifies the company's roots in Southeastern Wisconsin. Much of the furniture in the new lab was made from locally recycled and re-purposed material, including material from family-owned farms in Appleton.
Overall, more than 15 local businesses were involved in making Cream City Labs possible, employing over 80 people along over the span of the project.
"While the lab may be new, innovation is not," said Gouverneur.
Gouverneur stressed that Cream City Labs is another step in the right direction not just for the company, but the community as well.
Partnerships with Marquette University and the UW-Milwaukee were also noted in making the new innovation lab possible. Beginning early next year, new education and training opportunities will be offered to prospective students with Cream City Labs.
Not only will Cream City Labs advance innovation in technology for the company itself, but for the community and the aspiring students within it.
Northwestern Mutual Opens Innovation Center
Cream City Labs will offer space, design training, access to venture capital companies.