NSRI Pink Rescue Buoys win international award for Innovation & Technology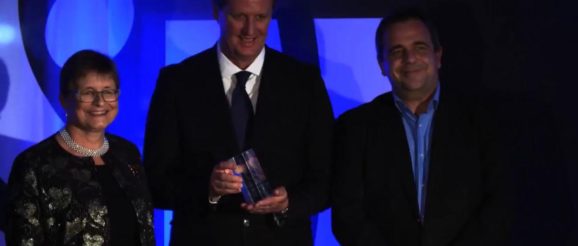 The NSRI's Pink Rescue Buoys won the 2018 IMRF (International Maritime Rescue Federation) award for Innovation and Technology at a prestigious gala dinner in Norway last night, Thursday, 08th November.
NSRI head of Drowning Prevention, Andrew Ingram was present at the awards ceremony as a guest of IMRF to receive the award. Today he is invited to present the South African born campaign to the IMRF Europe's annual meeting.
Journalist and author Gordon Drydon once said "An idea is a new combination of old elements."  The Pink Rescue Buoy project is exactly that.  There is a clear pattern where people are drowning because of a lack of flotation. The typical scenario is that someone is in difficulty in the water and a well meaning bystander goes in to help. Tragically the "helper" is usually the person who may be most likely to drown.
Flotation on beaches were a common site where Life Rings were placed at the waters edge at beaches, swimming pools and canals. But this practice died out.
Concerned about the rate of drowning, NSRI – a search and rescue organisation, stepped forward to initiate a series of preventative campaigns. This new unit is headed by Andrew Ingram.
Rescues world wide use torpedo buoy flotation, these buoys are affordable and effective. The idea was to then make these available as public rescue devises.
Theft was raised as the biggest challenge when presenting the idea. The concept of a unique colour coupled with the need for them to be highly visible in the surf resulted in the signature luminous pink.
Known drowning hot spots were identified, sponsors were found and a pilot project was launched.
12 months later we have 300 installations around the country, and while theft has hovered between 8 and 18%, most importantly 15 lives have been saved.
The next step is to make this pervasive across all beaches and beside all water bodies. Through partnerships and community buy-in this is possible.
"It is a great honour for our team which has worked on the Pink Rescue Buoy project over the past year to be recognised by the IMRF, said Andrew Ingram, Head of NSRI Drowning Prevention. The spotlight is now firmly on Public Rescue Devices, and effective rip current education. We hope that this combination will help to reduce rip current and failed peer rescue drownings around the globe", said Ingram.
In 2017, NSRI Education programme presented in schools was a finalist in the category "IMRF award for Outstanding Team Contribution".