On the cutting edge of alcohol-free beverage innovation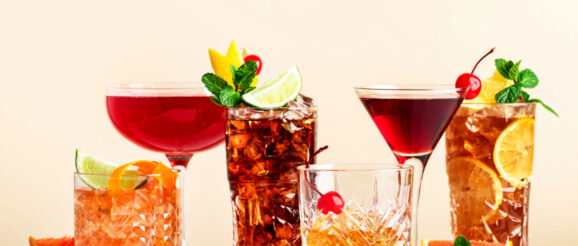 CHICAGO — From mocktails to nitro coffee, the alcohol-free, adult-centric beverage business is booming at home and on menus. Consumers are seeking complex tastes they cannot create at home. Convenience also reigns, with ready-to-drink, single-serve containers fueling category growth.
"Cold-brew coffees, as well as non-alcohol seltzers and sparkling waters, are popular with consumers, especially ones who desire refreshing, health-halo drink options," said Hudson Riehle, senior vice president of research, National Restaurant Association, Washington. "They are also experimenting with more indulgent, alcohol options, including spicy cocktails, espresso martinis and spritzers that taste delicious and photograph well."
The latter was the inspiration for many prototypes showcased at IFT FIRST, the Institute of Food Technologists' annual meeting and expo, held July 16-19 in Chicago. Ingredient suppliers are ready to assist beverage formulators by offering innovative non-alcoholic beverages that appeal to adults willing to spend a little more for something a little better than what's currently in the marketplace.
"Adults are imbibing no-alcohol adult drinks," said Lisa Jackson, director of marketing, FlavorSum LLC, Kalamazoo, Mich. "Our proprietary research shows they want familiar flavors, but they also must be more complex than what's currently in the market. And they do not want artificial ingredients or a lot of calories. Low- and no-sugar is trending."
Such depth requires a layering of flavors, often at non-characterizing levels. In other words, consumers don't taste the specific flavor, but if it's not part of the formula, the taste may be considered lacking.
FlavorSum sampled a "mule" type mocktail at IFT FIRST featuring a blend of blackberry, ginger, ginger ale, lemongrass, lime and oak flavor profiles in a rooibos tea base. No individual flavor stood out, much like in the classic Moscow mule made with vodka, ginger beer and lime.
"The nuanced notes in rooibos tea deliver desired complexity without caffeine, making the beverage ideal for end-of-day relaxation," Ms. Jackson said. "This low-sugar concept is slightly sweetened with stevia.
"Our take on the classic Lynchburg lemonade relies on oak, lemon and yuzu flavors, combined with some orange bitters. We included a cloud emulsion for visual appeal."
A cloud emulsion also was used to make a non-alcoholic rum punch.
"We recreated the flavor of Falernum, a bartender's go-to syrup liqueur for tropical drinks," Ms. Jackson said. "This natural system includes more than 10 flavor extracts, which when combined screams out Caribbean cocktail, just without the rum."
The tropical flavor system includes several rum profiles, along with hints of almond, chili pepper, clove, ginger and various tropical fruits. For an herbal mocktail, the company combined its gin-type flavor with layers of basil, cucumber and lime extracts.
Bell Flavors & Fragrances, Northbrook, Ill., sampled a bourbon peach sweet tea, sans the barrel-aged whiskey. A brown sugar flavor combined with the other characterizing notes provided the depth one would expect in the alcohol-based drink.
The company also showed its Tettnang-type hops flavor in an alcohol-free "spiked" lemonade. Tettnang is a small town in Germany known for its namesake hops used in European pale lagers and wheat beers. Bell recreated the profile in an extract form, and, when combined with cardamom, ginger and lemon flavors, resembles a spiced shandy.
Brooklyn, NY-based Virginia Dare celebrated its 100-year anniversary at IFT FIRST with a "toast to the future of flavor," said Howard Smith, president. Virginia Dare sees this future as one that will continue to move toward health and wellness and is fueling the no-alcohol movement.
Beverage prototypes sampled included a blueberry granola-flavored cold-brew oat milk latte, a spiced peach cobbler-flavored black tea and a jasmine mojito sparkling zero-proof cocktail.
"Our samples highlighted the biggest trends shaping the flavor industry, from nostalgia-inspired profiles to exotic fruits," said Philip Caputo, marketing and consumer insights manager. "These flavors tell unique stories and take consumers on a journey."
Clean and simple was the focus of Kerr by Ingredion, Salem, Ore., a company that produces juices, purees, concentrates, essences and distillates from conventional and organic fruits and vegetables. At IFT FIRST, Kerr sampled a reduced-sugar mocktail based on the company's lavender chamomile tea. It also included Kerr's blueberry not-from-concentrate juice and blueberry essence to offer a touch of tartness.
Alcohol-free going mainstream
Abstinence Spirits USA, Oakland, Calif., a business of Curated Beverages Ltd., is a forerunner in the alcohol-free spritz category. The company debuted ready-to-drink Sparkling Blood Orange Aperitivo Spritz and Sparkling Lemon Aperitivo Spritz at the 2023 Summer Fancy Food Show, held June 25-27 in New York. The spritzes are intended to be a convenient alcohol-free option when chilled, poured over ice and garnished with a fresh citrus slice. They are made with the brand's same-flavored aperitifs.
New Sayso tea bags from the namesake New York-based company, present a versatile proposition for cocktail enthusiasts and non-drinkers alike in a sophisticated, easy-to-use format.
"Sayso is non-alcoholic," said Alison Evans, co-founder. "Customers can choose to omit the spirits and use water or non-alcoholic spirits to make a delicious mocktail, or they can choose their favorite spirits. The power is really in the hands of the consumer with our product. And they travel well."
Founded in 2021 and launched in June 2022, Sayso produces cocktail tea bags that steep at room temperature to make balanced drinks. Sayso initially debuted a Skinny Spicy Margarita, Rosemary Honey Moscow Mule, Skinny Cardamon Paloma and classic Old Fashioned. At the Summer Fancy Food Show, the company added an Espresso Martini. This fall a Hibiscus Cosmopolitan will join the line.
Earlier this year, Waterloo Sparkling Water, Austin, Texas, introduced a Ginger Citrus Twist sparkling water. It features a balance of ginger and citrus intended to replicate the flavor of ginger beer, said Kathy Maurella, chief marketing officer.
Top-shelf coffee and tea
Tea and coffee beverages also are expanding in the non-alcoholic beverage space. The caffeine inherent to some of the drinks provides a kick some find to be a satisfying replacement to alcohol. While caffeine is a stimulant and alcohol a depressant, many people experience a boost of energy when first consumed. That's because both compounds quickly affect the brain and change awareness, thought processes and overall mood. The pathways are different, and the long-term effects are, too, but the initial "buzz" is often the same.
"Today's consumers are demanding healthy beverages with natural ingredients," said Jenna Callahan, category manager, Florida Food Products, Lake Mary, Fla. "Consumers are looking for natural sources of caffeine or caffeine alternatives to meet their desires for health and wellness."
FFP sampled both types of energy-inspired beverages at IFT FIRST. Caffeinated concepts included a watermelon basil white tea mocktail, a lavender cold brew and a nitro coffee.
The "nitro" in nitro coffee refers to the nitrogen gas that is infused into cold-brew coffee. Nitrogen makes the coffee frothy and thicker, much like a dark beer. It has a sweet taste, eliminating the need to add sugar. Nitrogen bubbles are significantly smaller than the carbon dioxide bubbles found in carbonated soft drinks. In fact, they are so small that the tongue perceives them more of as a cream than as carbonation.
FFP showcased cascara in an apple cinnamon beverage. Cascara, also known as the coffee cherry, historically has been the waste stream of coffee production. Today it is being upcycled and used for its caffeine and flavonoid content. In beverages, it provides a bright and fruity flavor, along with some fiber.
For adults looking for an increase in mental focus without a jolt from caffeine, FFP added l-theanine, an antioxidant found in green tea, to a fermented carrot passion fruit chamomile beverage.
Westrock Coffee Co., Little Rock., Ark., featured a range of coffee and tea beverages at IFT FIRST, including a black tea hibiscus slushie, a green tea-based pomegranate peach energy refresher containing taurine, ginseng and B vitamins, and a nitro creamsicle coffee leaf tea.
Coffee leaf tea is new to the US marketplace. As the name suggests, it is the leaves of the coffee plant, which are dried and ground and used much like tea leaves. In Ethiopia, coffee leaf tea is boiled in water to make a drink called kuti. Coffee leaf tea is similar to green tea, but with a more earthy and sweeter taste. It is also lower in caffeine and higher in antioxidants than green tea.