Ontario reinforces commitment to Innovation Factory and the region's transportation community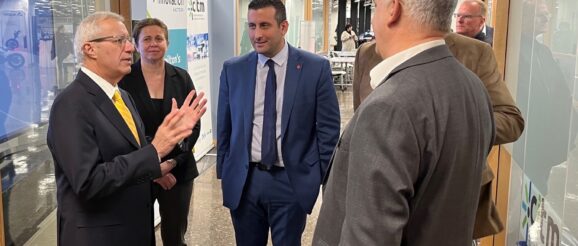 Provincial investment drives transportation innovation in Hamilton
HAMILTON, ON, January 13, 2023 – Yesterday, Innovation Factory welcomed Vic Fedeli, Minister of Economic Development, Job Creation, and Trade to celebrate the recent investment announcement of $2.4 million to support the accelerator's Centre for Integrated Transportation and Mobility (CITM). The investment will allow the CITM to expand programs and services to advance the future of automotive, transportation, smart infrastructure and energy industries.
As part of the Ontario Vehicle Innovation Network (OVIN), led by the Ontario Centre of Innovation (OCI) through the Government of Ontario, Innovation Factory established CITM in 2018 to provide business and technology advisory services, resources, and collaboration opportunities to start-ups and small- and medium-sized enterprises (SMEs) who are developing smart and sustainable transportation innovations.
The continued partnership with OVIN promotes innovation and economic growth in the Hamilton region, and enables CITM to expand its offerings to include support for innovators building solutions in areas related to electrified transportation powertrains, energy distribution systems and infrastructure. Most notably, CITM leverages a network of partners, ranging from engineering and design expertise to advanced manufacturing technology resources.  In addition, innovators can access data, resources, and pilot opportunities with industry and technology leaders through the CITM Innovation Challenge program.
"Our government is proud to support business accelerators like Innovation Factory, who are helping Ontario-based innovators, start-ups and SMEs focused on electrified, connected and autonomous vehicle innovations launch, scale and succeed," said Minister Fedeli. "With support from our OVIN program, Innovation Factory will be able to expand its programs and services, strengthening the technology sector in Hamilton. Together we're building a strong Ontario with opportunities for all people."
Minister Fedeli toured CITM's facilities and received a demonstration of their Smart Transportation Network, a multi-site, live test environment that features leading-edge 5G, IoT and V2X environments, and technology platforms. The Minister saw firsthand how innovators can access CITM's Smart Transportation DataStor which provides real-world smart city sensor, intersection, environmental and other data to utilize in training their software and AI systems.
"The continued investment in CITM has enabled our team to deliver on its commitment to support and develop Ontario-based SMEs through enhanced resources and expertise. Our partnership with OVIN helps us to expand our ecosystem of partners, and promote collaborations between emerging companies and industry leaders," said David Carter, Executive Director of Innovation Factory.
"Our government has promised since we took office in 2018 that we are open for business," said Donna Skelly, MPP for Flamborough-Glanbrook. "We will do what we can to support businesses and make it easier to invest and create jobs in this province. We want the business community to have confidence in the direction and strength of Ontario's economy."
"Our government is investing in cutting-edge technology to prepare Hamilton and Ontario for the future," said Neil Lumsden, MPP for Hamilton East-Stoney Creek. "Our PC government's focus on innovation and entrepreneurship is building Ontario's economy, encouraging job growth and positioning our province to be an economic leader, both today and tomorrow."
"The Ontario Centre of Innovation is grateful for the Ontario government's continued support of the province's innovators and entrepreneurs. Funding to these Regional Technology Development Sites across the province will result in reaching more companies and supporting Ontario's position as a leader in the automotive and mobility sectors," said Claudia Krywiak, President, and CEO of the Ontario Centre of Innovation (OCI).
About the Centre for Integrated Transportation and Mobility
The Centre for Integrated Transportation and Mobility (CITM) is a business accelerator dedicated to supporting electrified, connected and autonomous vehicle innovations from ideation to commercialization and scale-up; and driving market adoption and new intellectual properties as well as increased revenues, investment and jobs.  Matching innovators with industry, business development and technical expertise, CITM helps them find product-market fit, pilot projects, strategic connections, and growth opportunities.  CITM also offers exclusive R&D resources to test and validate innovations through leading-edge test environments, technology platforms, rich datasets, and specialized labs.
About Innovation Factory
Innovation Factory is a not-for-profit business accelerator, serving as the catalyst for technology innovation in the greater Hamilton area since 2011. Innovation Factory provides business services, training, mentorship, and strategic connections to drive market adoption, leverage intellectual property, and increase revenues, investment, and jobs. Innovators can also access sector-specific resources including exclusive smart transportation test environments and data; and a formal life science and health innovation ecosystem.
About the Ontario Vehicle Innovation Network (OVIN)
OVIN is an initiative of the Government of Ontario, led by the Ontario Centre of Innovation (OCI), designed to reinforce Ontario's position as a North American leader in advanced automotive technology and smart mobility solutions such as connected vehicles, autonomous vehicles and electric and low-carbon vehicle technologies. Through resources such as research and development (R&D) support, talent and skills development, technology acceleration, business and technical supports, and demonstration grounds, OVIN provides a competitive advantage to Ontario-made automotive and mobility technology companies.
Media Contact
Jennifer Gauvreau, Senior Manager, Marketing & Events, Innovation Factory
905-802-7308, [email protected]
The post Ontario reinforces commitment to Innovation Factory and the region's transportation community appeared first on Innovation Factory.