Oracle Construction and Engineering Innovation Lab: Worksite of Tomorrow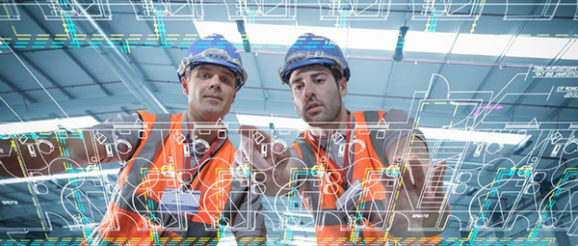 By Corie Cheeseman
Digital transformation is swiftly reshaping the construction and engineering landscape. Advances in technology are continually emerging, and organizations are working to understand the potential benefits of technologies such as:
·       The Internet of Things (IoT)
·       Artificial intelligence (AI)
·       Machine learning
·       Augmented reality (AR)
·       Next-generation building information modeling and whatever tomorrow brings.
These technologies—as well the data they yield or analyze—offer significant opportunities to transform project delivery by improving productivity, quality, safety, and standardization as well as by enabling continuous improvement across operations.
To help project- and asset-intensive organizations navigate and benefit from this changing landscape, in late August we will unveil an initiative called the Oracle Construction and Engineering Lab. This unique facility, based outside Chicago, is no typical demo experience.
A simulated worksite (down to the trailer), the Innovation Lab features a realistic E&C working environment where visitors can interact with drones, autonomous vehicles, connected tools, sensors, and other technologies.
These immersive visitor experiences bring to life the operational improvements and data-driven insights such advances can deliver in combination with Oracle's leading project planning and delivery solutions.
We didn't do this alone—nor could we have.
To ensure we created the right experiences, we worked with a number of technology partners to embed their innovations into the Lab, as well as Oracle Construction and Engineering customers, who brought terrific energy and insights into their own needs and challenges, enabling the development of a collective vision of what the Lab should be.
Oracle customers, including Bechtel, Clayco, Lendlease, Mortenson, Skanska USA, and Walbridge, made significant contributions to the ideation and development of the Innovation Lab.
Our technology partners for the introduction of the Construction and Engineering Innovation Lab are:
·       Assemble Systems: 4D and 5D building information modeling (BIM)
·       Bosch: Connected tools
·       DAQRI: Augmented reality
·       HERE Technologies: Site mapping
·       Reconstruct: Virtual progress reporting
·       Triax Technologies: Worker and equipment tracking
 "There are a growing number of providers trying to disrupt our industry with new technology," said Dr. Burcin Kaplanoglu, senior director for strategy and innovation at Oracle Construction and Engineering.
Burcin adds, "We're excited to collaborate with our technology partners and customers to showcase sophisticated, proven solutions for our visitors and help deliver our vision for the Innovation Lab. We will use this lab to prototype and test technologies as well as showcase new capabilities and integrations. We will continue expanding this open ecosystem with new partners, customers, students and academics, and others."
Stay tuned to our blog for much more information about the Innovation Lab as well as insights from the partners and customers who helped shape and deliver this ambitious initiative.
Corie Cheeseman is a senior content marketing manager for Oracle Construction and Engineering.