Outdid Unified LLP: Pioneering Innovation in Electric Vehicle Technology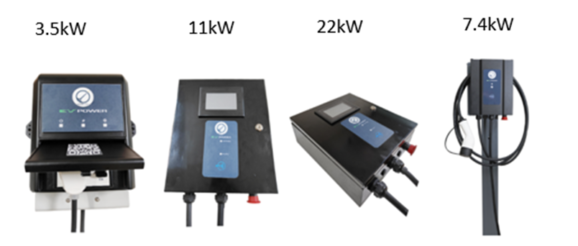 In today's rapidly evolving technological landscape, companies like Outdid Unified LLP are at the forefront of crafting innovative solutions to meet the ever-growing demands of various industries. Their commitment to pushing boundaries and delivering cutting-edge products is evident in their participation in the highly anticipated AutoEV India 2023 event.
Outdid Unified LLP is excited to announce its active participation in AutoEV India 2023, a prestigious exhibition slated to take place from November 2nd to 4th, 2023, at the KTPO in Whitefield, Bangalore. You can find them at booth number F-11, where they will showcase a range of products designed to revolutionize the electric vehicle industry.
Featured Products at Auto EV India 2023
EV Chargers

: Outdid Unified LLP's EV chargers are a testament to their commitment to excellence. With options including AC Chargers (3.5kW, 7.4kW, 11kW, 22kW) and DC Chargers (30kW, 60kW), these chargers are engineered for efficiency and reliability.
Other Allied Products

: In addition to EV chargers, Outdid Unified LLP offers a suite of allied products, including Voltmeters, Ammeters, Vehicle Tracking Systems, Energy Meters, Battery Management Systems, EV Discharge Modules, and Vehicle Control Units.
Innovative Engineering
Outdid Unified LLP takes pride in their innovative engineering approach. They harness the latest advancements in hardware, software, and PCB design to create products that stand out. Their EV chargers, for instance, boast robust hardware designs that guarantee reliable performance. The software is meticulously crafted to deliver seamless user experiences and optimize backend efficiency. Furthermore, their PCB designs are optimized to enhance performance, efficiency, and longevity, aligning seamlessly with industry requirements.
Technological Applications
Outdid Unified LLP's products play a pivotal role in driving the electric vehicle revolution. Their EV chargers, available in both AC and DC variants, facilitate efficient charging for various vehicle types. The Voltmeter and Ammeter provide crucial metrics for monitoring and optimization. The Vehicle Tracking System ensures safety and efficiency in fleet management. 
The Energy Meter accurately measures consumption, aiding in resource management. The Battery Management System enhances battery life and performance, while the EV Discharge Module contributes to overall energy efficiency. Each product is meticulously designed to contribute significantly to advancing electric vehicle technology, making transportation greener, smarter, and more sustainable.
Outdid Unifief LLP offers a comprehensive range of electric vehicle (EV) chargers, encompassing both AC and DC fast chargers. These high-quality charging solutions are available for licensing to EV manufacturers, charging station operators, and infrastructure companies, allowing them to customize and brand these products to suit their specific needs.
Experience the Future of Technology
Outdid Unified LLP extends a warm invitation to visit their booth (F-11) at Auto EV India 2023. Explore their innovative solutions and get a firsthand experience of how they are shaping the future of electric vehicle technology. 
The post Outdid Unified LLP: Pioneering Innovation in Electric Vehicle Technology appeared first on ELE Times.