Overcoming Human Barriers to Tech Innovation in the Safety Net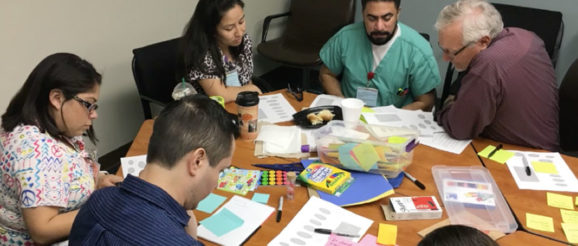 At the CHCF Health Innovation Fund, we spend most of our time sourcing, vetting, and supporting technology-enabled solutions that have the potential to make care in California's safety net more accessible and effective, and less costly. Among our many investments are a virtual diabetes prevention program and a tailored texting platform that better engages patients in their care. Our work relies on one very critical assumption — that safety-net providers are ready and able to adopt innovative solutions.
We recently took time out to test that assumption. We interviewed more than a dozen organizations, including trade associations and advocacy and technical assistance nonprofits, that support the clinics, hospitals, health plans, and county health entities that deliver much of California's safety-net care. We asked everyone: "Are your member organizations ready to adopt technology-enabled innovations? If not, why not?" We also asked about the initiatives they have undertaken to enhance the abilities of these constituent organizations to adopt such innovations.
We were surprised to hear repeatedly that it isn't financial and staff capacity that determines an organization's ability to embrace technology-driven change — it's executive leadership and organizational culture.
The Leading Factor
The tone and culture set by leadership is like soil, and innovations are the plants that grow or die in it. If the soil is fertile, innovations can easily take root and flourish throughout the organization. If the soil is rocky and barren, innovations will fail.
How can an executive make that soil more hospitable to innovation? One interviewee cited three critical ingredients: attitude, risk tolerance, and trust. Other interviewees emphasized the importance of leaders being adept at change management and able to stay focused on a coherent, outcomes-driven strategy. These insights apply to leaders throughout an organization's executive team, as well as its board.
Interviewees cited other critical factors that determine organizations' capacity to harness new solutions. Research on the success and spread of innovation guided us to group these factors into six buckets that determine whether innovation is possible and whether individual innovations ultimately succeed.
Policy and regulations: Policy tailwinds can incentivize and spread innovation. Headwinds can stifle it.
Executive leadership and organizational culture: If innovation is valued and prioritized at the top, that attitude will permeate throughout the organization, in turn creating a culture.
Staff capabilities: Staff members must have the tools, skills, time, and confidence to champion change.
Vision and idea generation: Senior leadership and staff must be able to identify opportunities and turn them into tangible ideas for improvement.
Financial and business case: The perceived financial, labor, and other costs of the innovation must be justified and the resulting benefits must be clear.
Technical assistance and implementation: An organization must have the relevant expertise and resources to fully adopt and evaluate the innovation.
The chart below summarizes which of these six buckets pose the greatest challenges for safety-net entities according to the support organizations we interviewed. Although most organizations emphasized similar challenges, interestingly, county health organizations were the only group for whom generating innovative ideas surfaced as a key barrier.
We also asked interviewees about the ways and areas in which their organizations work to increase their members' innovation readiness. Those findings are presented below.
Although the organizations we interviewed offer an impressively diverse range of initiatives, they offer little in the way of executive leadership and organizational culture development. Unfortunately, that is the very area that they also identified as being the greatest barrier to innovation adoption.
For the most part, interviewees reported focusing primarily on efforts to improve the policy and regulatory environment for innovation. This is unsurprising — "government relations" is one of the highest-value and most common services offered by member associations like the ones we interviewed. A wide range of initiatives described also relate to increasing staff capabilities and supplementing them through direct implementation assistance.
Regarding their approaches, these organizations use a variety of tactics — including learning institutes, trainings, and innovation incubators — to help their members create more fertile ground for innovation and, in turn, higher quality and more cost-effective care. One example is the CCI Catalyst Program, which leads cohorts of safety-net clinic staff members through a six-month capacity building program. Rooted in the principles of design thinking, the program focuses on building a variety of "soft skills," such as idea generation and iteration, pilot development, and change management.
A team from Open Door Community Health Centers, a Federally Qualified Health Center serving Humboldt and Del Norte Counties, entered the 2017 Catalyst cohort hoping to solve a scheduling pain point. Frequent patient no-shows were wasting the clinic's precious capacity. Yet, Open Door had no way to offer those newly available slots to patients, even though many were interested in same-day care. Open Door wanted to be able to offer same-day care to patients with acute needs who were otherwise delaying care or seeking it elsewhere, including at emergency rooms.
Through the Catalyst curriculum, the Open Door team devised a same-day waitlist system to fill vacancies created by people missing their appointments. After a six-month pilot, the waitlist system had successfully filled 100% of late cancellations with patients seeking same-day appointments. The solution not only improved access for patients with acute needs, but it also enabled providers to see more patients per clinic session and provided the clinic with revenue that would have otherwise been lost.
The Work Ahead
All Californians deserve the chance to benefit from the latest innovations in care. But patients can only receive care that is as innovative as the providers delivering it. On the whole, our interviews revealed that California's safety-net providers have many strengths and many support organizations equipping them to adopt technology-enabled innovations in care.
Yet those strengths are not evenly distributed across the state or the delivery system, and they still leave plenty of room for improvement. For every pioneering leader and inspiring organization in California's safety net, there are plenty of others that could benefit greatly from developing stronger innovation cultures and capacities.
Now that we have identified those gaps, there is much we can all do to begin filling them. Those within safety-net entities, especially senior leaders, must do more to set a tone at the top that not only permits innovation but fosters it. Those who fund and support safety-net organizations can dedicate more attention and resources to developing the unique capabilities that innovation requires of both senior leaders and their staff.
As innovative solutions begin to take root and blossom in more of California's safety-net entities, the benefits will be bountiful for both patients and providers.
Andrea Hsu
Andrea Hsu is an innovations fellow at CHCF, where she leads several projects related to the foundation's role in improving and innovating in California's safety net.
Andrea is an engagement manager with McKinsey & Company in San Francisco. Prior to her role there, she worked in asset management at Goldman Sachs in two different capacities: long-only secondary investing and fixed income product management. Andrea earned a bachelor's degree in applied economics and management from Cornell University, and a master's degree in business administration from the Wharton School at the University of Pennsylvania.