PASSION AS PROFESSION | Rising boy band Alyson blends nostalgia and innovation • John Eiron R. Francisco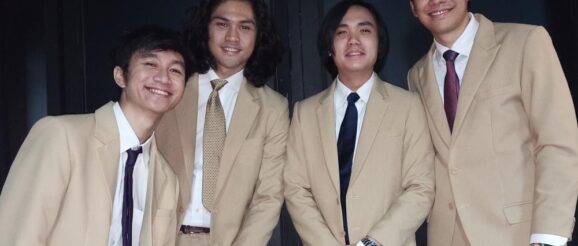 "There's no set way in terms of the creative process. But it's more of just finding something you're happy playing with," Pio Ligot, Alyson's vocalist and rhythm guitarist, told Soundstrip. 
In an industry where emerging artists strive to meet high standards and follow demanding trends, the rising boy group band, Alyson, takes a different perspective. 
The boy group consists of Pio Ligot as the vocalist and rhythm guitarist, Luis Uy as the lead guitarist, Marcus Mababangloob as the drummer and backing vocalist, Miguel Erfe as bassist and Easel Mannes as keyboardist – are set to make big waves in the industry. 
Alyson's creative process is marked by spontaneity. They find something that resonates and follow where the music leads. 
"Apart from just the writing, it's very important to really get every single detail of it in line with your vision," Marcus told Soundstrip. 
From the sound of the drums and guitar to the nuances of vocals, they meticulously engineer and produce their music.  
"It's just one of the freest ways of creating in our lives," highlighting that their commitment to details extends to recording and mixing their music, done in their own studio to ensure their vision is met.
Alyson's journey started in 2009 when Miguel, Marcus, and Luis were classmates in sixth grade.
In which they take this path seriously, as Pio described their music evolving from a punk sound to a more indie vibe. 
The band's determination to make a lasting impact in the music scene was further ignited during the pandemic era. 
Pio explained their goal: "We have to make something that will really leave a mark. Something that's really gonna express ano ba talaga ang gusto namin na sound [what is the sound that we truly want] that we will really enjoy for a very long time."
Their aspiration is to "make music that will last way beyond."
A dash of nostalgia
Alyson draws significant inspiration from the late 70s to early 80s Japanese city pop scene, blending elements of funk, jazz, and pop to create an irresistible sound that encourages listeners to dance and enjoy themselves. 
It is synthesized to create a reminiscent vibe of the past, this encapsulates the essence of Alyson's unique sound.
Music as profession 
When SoundStrip asked the group about how they remain strong as a band, Marcus stated, "We actually kind of see music as not just a passion, but also a profession, a job. "
However, "it may seem a bit crazy (to the outsiders) that we're putting so many of our chips into making music," the band members share a deep belief in their musical journey and are willing to invest their passion and effort into creating music that resonates with their audience.
They approach their work with dedication and passion, acknowledging that this shared commitment is what will sustain them, despite the clichéd nature of such dedication.
Luis told Soundstrip the joy they all share in their musical endeavors. He highlighted the importance of having fun during performances and allowing each member to express themselves through their music. 
"The process was really enjoyable, and we look forward to what Offshore can do to help us scale and flourish the process," Luis said. 
Marcus echoed this sentiment, emphasizing the significance of loving what they do. He believes that their unwavering commitment to their music is the core reason for the band's enduring presence in the industry. 
Alyson on Offshore Music
The boy group had recently signed a contract under Offshore Music headed by OPM icon Ely Buendia. This development marks a significant milestone in the boy band's journey spanning over a decade.
For years, the band had been accustomed to handling every aspect of their music career independently – from recording and writing to promotions. 
Pio explained, "We all had to do it on our own."
However, this new partnership with Offshore, a label that values artists' creative freedom, has them excited about the support they'll receive. 
The band's vocalist emphasized, "We really feel that we are gonna be taken care of. And it will really put our creativity to the max."
Marcus chimed in, stating, "We think that we have a very strong creative vision, like internally, when it comes to making our music," But Ely, the head of Offshore, shared a different perspective during the media launch of new artists under his management, noting that once you create something, it's no longer exclusively yours.
Before Offshore, the band had struggled with sharing their music more widely, but they see this as a strength of their new partnership. Marcus explained, "Sharing our music is something we value, and Offshore truly supports us in this aspect."
Initially, the band was apprehensive, believing that today's generation preferred independence in music ownership. 
However, Pio expressed their confidence in Offshore's dedication and care, saying, "We really feel that they have our best interests in mind."
"We are being taken under the wing of people who are like-minded, who also want Alyson as our group to flourish," he added. 
Visual Style
Beyond the creative process, their unique style extends to their visual presentation. 
The band dons suits that evoke nostalgia and a fresh take on fashion, emphasizing the importance of the visual aspect of their performances.
"We learned with the very long time that we've been performing. Showmanship," Pio said. 
Particularly when the audience actively participates in their performance, they aim to deliver a captivating show that goes beyond providing an enjoyable experience. 
Alyson believes in ensuring that the crowd remains memorable not only in the live experience but also in the visual aspect, including photographs. Their choice of suits serves as a means to express this sentiment.
"We wanna look the part and play the part for them and really dress up nicely for them so that it's not just a musical experience, but also a visual one," Marcus added. 
Where they dressed in extra attire to complement their latest album called "Definitely Love," which is available on various streaming platforms. 
Looking ahead, Alyson's vision extends beyond the Philippines. They also aim to be recognized internationally, particularly in Japan and other countries that appreciate their genre. 
Their goal is to spread their music and make an impact on the global music scene. With their distinct blend of Filipino roots and city pop, Alyson is poised to make waves in the music industry.