Per Gillbrand: A Pioneer in Turbocharging and Automotive Innovation Honored Posthumously in FIVA's Heritage Hall of Fame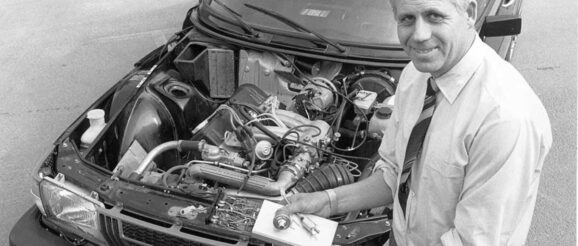 In a groundbreaking tribute to automotive innovation, Per Gillbrand, a Swedish engineering virtuoso, has been posthumously named the first Swede to be inducted into FIVA's Heritage Hall of Fame. The prestigious honor is bestowed upon individuals who have significantly impacted the world of automobiles, and Gillbrand's pioneering contributions have rightly earned him a spot among the automotive elite. The induction ceremony is scheduled for September, marking a momentous occasion for the automotive community.
FIVA, the Fédération Internationale des Véhicules Anciens, has, for the third consecutive year, recognized remarkable figures within the automotive realm by inducting them into their esteemed Heritage Hall of Fame. This year, the hall welcomes nine distinguished individuals, and among them stands Per Gillbrand (1934-2016), whose legacy is nothing short of revolutionary. Gillbrand's monumental achievements include his role in bringing turbocharging technology to the forefront of automotive engineering.
Gillbrand's journey in the automotive landscape began with his tenure at Volvo in 1956, where he quickly established himself as an adept engineer. His involvement in engine development marked the beginning of a remarkable career, eventually leading him to Saab, another prominent Swedish automaker. At Saab, Gillbrand's innovative prowess truly came to the fore.
Gillbrand's visionary thinking culminated in his groundbreaking work on turbocharged engines. One of his most notable achievements was adapting turbocharging for everyday vehicles during his time at Saab. His expertise not only transformed Saab but also revolutionized the global automotive industry. Through his ingenuity, Saab became the pioneer in offering turbocharged engines for passenger cars on a large scale, effectively changing the trajectory of automotive engineering.
The impact of Gillbrand's work cannot be overstated. His mastery over boost pressure control paved the way for turbocharged engines to become a ubiquitous feature in vehicles worldwide. The technology he championed has become an integral component in modern automobiles, exemplifying his profound and lasting influence.
Gillbrand's contributions extended beyond turbocharging. His involvement in the development of the B 18 engine during his tenure at Volvo underscored his multifaceted expertise. His innovative spirit was further demonstrated through the accumulation of an impressive 21 international patents, a testament to his groundbreaking ideas and their practical applications.
The recognition of Gillbrand's legacy through his induction into FIVA's Heritage Hall of Fame is a testament to his enduring impact. His innovative spirit and dedication to advancing automotive technology continue to inspire engineers and enthusiasts alike. His legacy is not only a celebration of his achievements but also a reminder of the transformative power of human ingenuity.
The induction ceremony, scheduled to take place in Nyköping on September 3rd, holds a special significance. It coincides with the Motorhistoriska Dagen prize presentation by MHRF (Motorhistoriska Riksförbundet), where the spotlight will be on Automobilsällskapet in Nyköping.
Per Gillbrand's story is one of innovation, determination, and an unwavering commitment to pushing the boundaries of automotive engineering. As he takes his rightful place among the luminaries of FIVA's Heritage Hall of Fame, his name will forever be synonymous with turbocharging and the remarkable impact it has had on the world of automobiles.
In celebrating Per Gillbrand's legacy, FIVA not only pays homage to a visionary engineer but also acknowledges the profound influence of innovative thinking on the evolution of the automotive industry. Just as turbochargers have propelled cars to new heights, Gillbrand's contributions have accelerated the pace of automotive progress, leaving an indelible mark for generations to come.