ProAmpac Wins Two Innovation Awards for PepsiCo Mexico Foods' Doritos E-Z SnackPak Design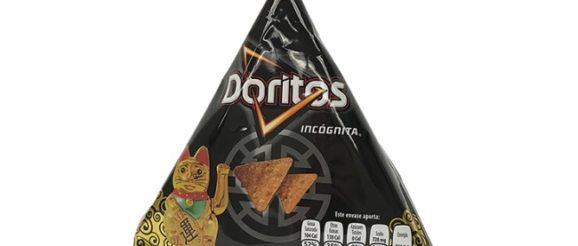 ProAmpac, a leader in global flexible packaging, announced today its novel four-sided, tetrahedron-shaped E-Z SnackPak™ pouch in partnership with PepsiCo Mexico Foods for the Doritos® Icognita™brand has won two industry awards.
The flexible E-Z SnackPak™ received a Gold Award from The Dow Chemical Company's 2018 Awards for Packaging Innovation, which recognizes the packaging industry's top achievements in innovative packaging designs, materials, technologies, and processes. E-Z SnackPak is one of eight Gold Award winners from "hundreds of very strong submissions," that were announced by Diego Donoso, business president for Dow Packaging & Specialty Plastics.
In June, the Doritos design with E-Z SnackPak received the 2018 Star Pack and Packaging Award from The Mexican Association of Packaging (AMEE), an annual contest recognizing new materials, designs and products that reflect innovation and creativity. The award was presented to PepsiCo Mexico Foods' Sabritas packaging and purchasing team and ProAmpac at EXPO PACK Mexico produced by PMMI, the Association for Packaging and Processing Technologies.
"E-Z SnackPak is a unique format that's literally changing the shape of flexible packaging," said Adam Grose, ProAmpac's chief commercial officer. "PepsiCo Mexico Foods introduced the E-Z SnackPak for Doritos® in March," Grose said. One industry observer called it a "strikingly attractive flexible pouch" for Doritos® Incognita™, he added.
"The E-Z SnackPak replaces traditional pillow pouches using up to 25 percent less material.  It is easily opened to form a serving tray that is shareable and where users can even pour salsa – both of which are popular in the Mexican snacking culture", said Alex Jones, Senior Innovation Engineer with ProAmpac.
"We launched in 2014 but commercializing the E-Z SnackPak innovation was not as simple as turning on a light bulb," said Jones.  "A lot of credit goes to our customer PepsiCo Mexico Foods. The new design format required changes in materials, different product filling equipment, and adapting in-store shelf displays. The launch was a collaborative effort from start to finish."