Public Talk: Blockchain Technology Meets 4×4 Innovation Financing – IP Lawyer Tools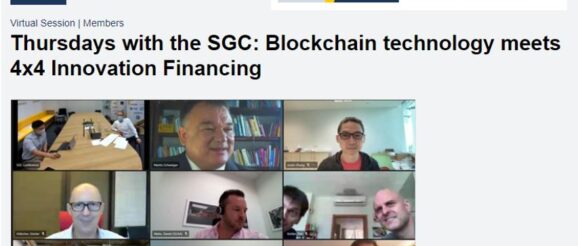 This is a talk that I have given on 29 April 2021, before the Singapore-German Chamber of Commerce (SGC), during one of the 'Thursdays with the SGC' sessions.
In very short words, I am starting from a negative example on Kickstarter.com and I am explaining how to use blockchain technology for setting up a proprietary crowdfunding environment for developing a new product.
Blockchain tokens are used as pre-sales indicators that tell whether or not the targeted market is willing to put money on the table for the planned new product.
The slides of my talk can be downloaded from here SGC Blockchain and Innovation 29 04 2021 or from Slideshare (click here).
The video recording of my talk is here
What Successful Innovation Is (00:45)
Five ways to finance innovation when there is not yet a free cash-flow from sales (02:03)
Everything seems to suggest pre-sales (03:12)
The Wolo Life Clock, a failed kickstarter.com project (04:09)
Why Kickstarter and similar crowd-sourcing initiatives do NOT work in practice (05:45)
Starting point: How might we … provide pre-sales to customers (07:25)
Innovation Analytics (12:00)
The Ralph Waldo Emerson Innovation Failure Approach (13:12)
Let`s Do Something NEW: The 4×4 Innovation Strategy applied (17:12)
Tokens Meet Not-Yet-Existent Products (20:28)
Block Chain Token Technology In A Nutshell (21:38)
Some Financial Token Definitions (23:19)
Blockchain Token Exchange: example WenX (27:17)
The 4×4 Innovation Strategy meets Blockchain technology (28:19)
Mission accomplished (32:19)
There is a myriad of applications for utility tokens in pre-sales (34:32)
Did you like what you just read? Then subscribe to my free Tip of the Week!