#QSRNext Keynote: Unlocking the secrets of menu innovation with Frisch's CEO | Fast Casual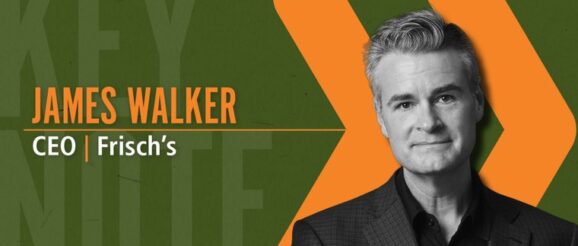 In the ever-evolving landscape of the restaurant industry, menu innovation stands as a crucial battleground for brands of all sizes and backgrounds. Regardless of the budget, company size or experience level, the ability to adapt and embrace menu trends is an imperative task for restaurants to thrive in a competitive market.
James Walker, the CEO of Frisch's who has emerged as a key figure in the realm of menu innovation, will give the keynote address at the #QSRNext, a one-day virtual talk show (Nov. 8) produced by Networld Media Group. It starts at 10 a.m. EDT and is free for restaurant owners and executives. Click here to register.
Walker's keynote will reveal invaluable insights not only from his work with Frisch's, but also how his strategy compares when leading larger brands like Subway, Nathan's Famous and Johnny Rockets.
"James is leading Frisch's but he's also heavily involved with the parent company's new brands, the Original Hot Chicken, Inked Tacos and Pinsa Roman Pizza, so we'll discuss the growth plans for all of those brands as well as the latest menu trends they are exploring," said #QSRNext co-host Cherryh Cansler, VP of events for QSRweb.com's parent company, Networld Media Group.
In the restaurant industry, adapting to changing customer preferences and culinary trends is a matter of survival. Smaller, independent establishments, often celebrated for their creativity, have an agility advantage when implementing new menu items. These smaller businesses can quickly experiment, offering customers unique and innovative dishes, catering to niche markets, and redefining their culinary identity. For them, innovation is not just a choice — it's a necessity.
On the other hand, larger brands like Frisch's face unique challenges. These giants have extensive customer bases, brand histories and well-established menus. Balancing innovation with consistency becomes a complex task. It's in this complex environment that James Walker's expertise shines through.
"Menu Innovation can drive traffic, frequency, sales and ultimately profitability — if done correctly," Walker said ahead of his keynote. "Done incorrectly, you can confuse your guests, and frustrate your team members. We'll discuss how your menu program can show a 'return on innovation.'"
This keynote offers an opportunity for industry leaders, restaurant owners and aspiring entrepreneurs to gain insights into the dynamic world of menu innovation, said #QSRNext co-host Nabeel Alamgir, CEO of Lunchbox. Walker's experience will serve as a valuable guide for those looking to understand how to innovate, whether they lead a small, independent restaurant or helm a major franchise. As the restaurant industry continues to evolve, embracing menu trends remains a critical factor in staying competitive and relevant in the eyes of discerning consumers. Walker's insights promise to be a compass for those who are navigating these waters.
Click here to register.