Queen's International Innovation Challenge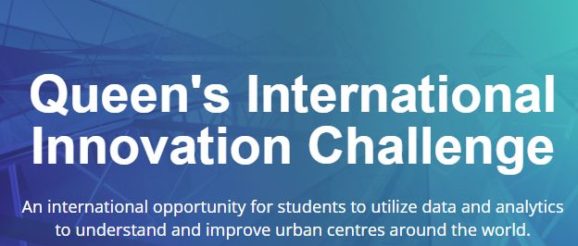 The Queen's International Innovation Challenge is an opportunity for post-secondary students currently registered in an academic program to learn how to make decisions in this era of big data and digital transformation.
Learn how smart cities ensure health and wellbeing for all. Promote inclusive and tenable economic growth. Design resilient infrastructure, inclusive industrialization and foster innovation. Make cities inclusive, safe, and sustainable for all.
Background
The United Nations has identified a new outline: 2030 Agenda for Sustainable Development. Within this agenda, there are a number of goals that relate to "Smart Cities". Use these as your guide as you work on your solution.
Ensure healthy lives and promote wellbeing for all ages
Ensure availability and sustainable management of water and sanitation for all
Promote sustained, inclusive and sustainable economic growth, full and productive employment and decent work for all
Ensure access to affordable, reliable, sustainable and modern energy for all
Build resilient infrastructure, promote inclusive and sustainable industrialization and foster innovation
Make cities and human settlements inclusive, safe, resilient and sustainable
Ensure sustainable consumption and production patterns
Promote peaceful and inclusive societies for sustainable development, provide access and justice for all
Build effective, accountable and inclusive institutions at all levels
Your assignment
Your team will consider the issues surrounding Smart Cities, analze available data and tell the story of your solution.
1. Identify the problem. A unique situation within one of these areas that your team believes it can improve upon. The problem can be (but not necessarily) relevant to your personal experiences.
Example: A team from Eastern Africa might explore urbanization of your population and ways to successfully accomodate this change. A team from a major American city might explore the challenges related to population surveillance.
2. Form a hypothesis. Which factors can effect the change required to make your chosen urban challenge "smarter"?
Information is often confusing and contradictory – use your analytical skills to make sense of it all.
4. Make a decision and prepare your solution. Justify your ideas, data analysis and any underlying assumptions. This is a challenge, not a thesis. Ultimately, the best story will win!
The top 5 teams will be invited to the finale in Toronto on November 30, 2018. Team travel bursaries are available for teams outside of Ontario.
1st: $20,000 CDN
2nd: $10,000 CDN
3rd: $5,000 CDN
4th: $3,000 CDN
5th: $2,000 CDN
Source: