Razer Pushes Boundaries of Gaming Innovation at CES 2023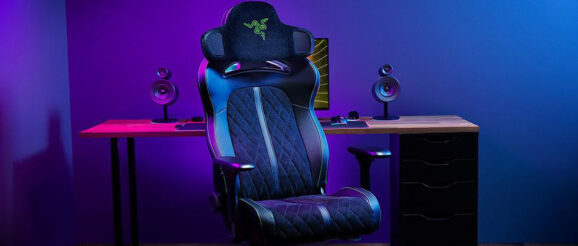 Razer showcased its innovative technologies at CES 2023. At the concluded event, it was the first opportunity for gamers and tech enthusiasts alike to get hands-on with the upcoming Kiyo Pro Ultra, Edge, and a peek into the Project Carol concept device, to name a few.
Razer Edge and Edge 5G
The Razer Edge and Edge 5G is a 6.8-inch Android handheld gaming device. It features a Snapdragon G3x Gen 1 chipset, and an FHD+ AMOLED panel with a 144Hz refresh rate. Moreover, it was purpose-built with active cooling for long gaming sessions even on the top AAA titles.
It was the first time the company showcased the newly announced device at CES 2023. The device, both the vanilla and 5G variants will be released on January 26.
Razer Kiyo Pro Ultra
The Razer Kiyo Pro Ultra features a bigger sensor that offers better image quality. It boasts the largest sensor ever used in a webcam and is said to offer DSLR-level detail and clarity, while still maintaining the plug-and-play simplicity.
At the heart of the webcam is Sony's 1/1.2-inch STARVIS 2 sensor with a 2.9 μm pixel size. It is also fitted with an ultra-large f/1.7 aperture lens to maximize the sensor's full potential. The lens can capture about four times more light compared to other webcams.
The webcam has a processor that can convert raw 4K 30fps (or 1080p 60fps) footage to uncompressed 4K 24fps, 1440p 30fps, or 1080p 60fps directly into your stream. It also features an AI-powered Face Tracking Auto-focus that tracks your face and HDR at 30fps.
The Kiyo Pro Ultra will be available on January 2023 starting at USD 299 (around PHP 16,300), exclusively at Razer.com and RazerStores.
Razer Leviathan V2 Pro
The Razer Leviathan V2 Pro is the world's first beamforming soundbar for desktops with head-tracking AI. It was done in partnership with THX and the leading 3D audio beamforming experts Audioscenic.
The Leviathan V2 Pro delivers immersive 3D audio thanks to its integrated IR camera that detects your position. This allows the soundbar to adapt the audio beams to the listener's positioning in real time.
It is powered by THX Spatial Audio coupled with Audioscenic user adaptive beamforming. 3D audio has two modes namely THX Spatial Audio Virtual Headset and THX Spatial Audio Virtual Speakers.
THX Spatial Audio Virtual Headset is for any stereo content and provides pinpoint positional audio previously only found in headsets. Meanwhile, THX Spatial Audio Virtual Speakers is for any multi-channel content that provides a room-filling soundstage that you would normally experience with a full home theatre system.
The Leviathan V2 Pro will be available in January 2023 and is priced at USD 399 (around PHP 21,800) via Razer.com and Razer Stores.
Project Carol Concept Design
Last on the list is Project Carol – the company's latest concept design from its R&D division. It is the world's first head cushion with enveloping near-field surround sound and haptics.
Project Carol takes immersion and realism to new heights with its use of near-field surround sound for 7.1 surround sound. It provides more direct rear audio powered by Razer HyperSense technology. The cushion converts game sounds into haptic feedback in real-time so you can feel everything behind you and place you in the middle of the action.
Natively, the cushion is supported on a PC and designed to fit with all gaming chairs via elastic and adjustable straps. It connects via 2.4GHz wireless and is said to provide up to 8 hours of gaming.
Know more about the products Razer showcased at CES 2023 here.
*Prices in PHP are direct conversions using the exchange rate at the time the content was published. These are not indicative of actual local pricing and don't include additional costs like taxes, etc.