Reasons the Camon 20 Doodle Edition With Android Ignites Artistry And Innovation!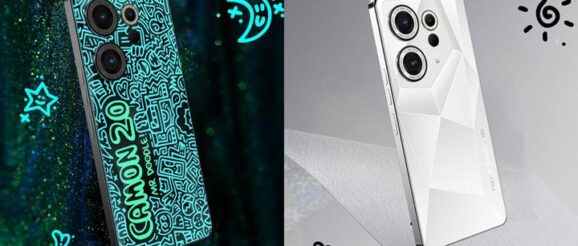 The launch of the CAMON 20 Doodle edition with Android was a moment that left us spellbound, and for all the right reasons. Imagine an atmosphere that's a blend of curiosity and excitement, walls adorned with playful and imaginative doodle art, music setting the perfect tempo, and at the centre of it all, the superstar – the CAMON 20 Doodle edition. It's a fusion of creativity and innovation that grabs your attention and refuses to let go.
But hold your thoughts right there – if you believe this is all just a spectacular show with no substance, prepare to have your assumptions shattered. In fact, here are five compelling reasons why the CAMON 20 Doodle edition isn't just about riding the wave of hype. This is the device you've been waiting for, and here's why:
Innovative Artistry in Your Hands
Experience a new level of smartphone design with the CAMON 20 Doodle Edition. Seamlessly merging Doodle art and cutting-edge technology, its mesmerizing back cover transforms it into a canvas of expression. The design absorbs light during the day and the glowing Doodle art springs to life in dimly lit places, igniting conversations and leaving a lasting impression. Every stroke narrates innovation, turning your device into an art piece that captivates and sparks creativity.
Seamless Performance, Powered by Android
Underneath its artistic exterior, the CAMON 20 Doodle Edition with Android is a powerhouse of performance. Running on Google's Android 13, it ensures a smooth and intuitive user experience. From browsing to gaming, every interaction is seamless, giving you the freedom to explore your creative side without limitations.
All-Day Inspiration, Always Charged
With a 5000mAh long-lasting battery, the CAMON 20 Doodle Edition with Android is designed to keep up with your dynamic lifestyle. Whether you're capturing moments, creating art, or staying connected, this device ensures you're powered throughout the day. And when it's time to recharge, the 33W fast charger refuels your energy in no time.
Photography Unleashed, Every Shot a Masterpiece
For photography enthusiasts, the CAMON 20 Doodle Edition with Android is a dream come true. Its classic camera boasts an anti-shake feature, guaranteeing that each video and photo is sharp and steady. Even in challenging lighting conditions, the low-light camera feature delivers stunning images that capture the world's beauty just as an artist envisions.
Visit any TECNO store and get the new CAMON 20 Doodle device because the smartphone isn't a fleeting trend; it's a revolution that marries artistry and technology in a union that's destined to leave its mark. Don't just be a witness to this transformation – be a part of it. Your next device, your next masterpiece, awaits. You can get more information by following TECNO on Facebook, Instagram and Twitter.