Regulators must 'be bold' and embrace innovation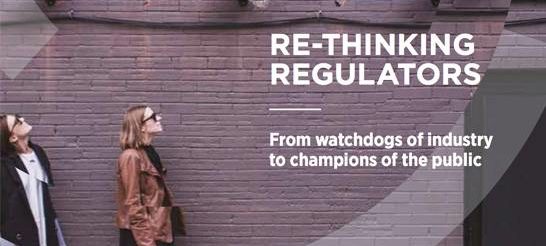 In an age of rapid technological advancement, regulators have been thrown into turmoil as to how best adapt their operations to continue monitoring their respective industries. A new report has urged them not to impede progress, however, and instead encourages them to embrace innovation.
A multitude of innovative technologies are presenting businesses with major opportunities to make their operations more efficient, as well as improving productivity. At the same time, regulators are struggling to bring their regimes up to speed without threatening to halt progress in their sectors. Exemplary of this is the blockchain scene, despite the potential of blockchain to help eliminate fraud from transactions and the supply chain.
More than eight in every 10 business and technology executives around the world have blockchain initiatives underway, but only one in four of these say their organisation now has a fully live blockchain implementation or pilot underway. As many as 48% of organisations cite regulatory uncertainty as a top three barrier to their blockchain efforts, while 27% list it as a top level concern, as they remain unsure of how a rapidly shifting regulatory scene for the new technology might change, or even scupper its effectiveness in the future.
Now, a report based on interviews with over 2,000 consumers, 500 regulated business, and 30 regulators, has warned that if regulators fail to adapt to these concerns, the consequences could be dire. According to the study from PA Consulting Group, amid a climate of fake news, consumer power, and rapidly evolving consumer expectations, regulators must be bold and remodel themselves as consumer champions, while continuing to fulfil their statutory duties. 
The paper found that respondents in all sectors are looking to regulators to support innovation, and to an extent most organisations are seeing this take place. The largest minority of 45% see regulators as enabling innovation, while 24% see regulators as driving innovation. At the same time, however, more than a quarter see regulators as blocking innovation. This comes as 95% per cent of organisations expect as much as 20% of business activity or revenue to be lost to new or disruptive businesses in the next five years.
Change needed
While regulators might be seen relatively favourably in the here-and-now by a large number of participants, then, the survey results warn against complacency from regulators. As long-term market incumbents battle to shrug off new challenges from agile digital disruptors in their sector, the majority are turning to digital transformation programmes. However, stringent regulation could scupper these efforts.
92% of businesses surveyed say that if regulators in their sector fail to evolve – in areas like processes, technology, manpower, and culture – they expect to feel a negative impact within three years. These companies anticipate an average revenue loss of 8%, should regulators not heed their advice. To that end, over the next five years, most want regulators to retain an enabling role, with nearly a third looking for regulators to drive innovation. That is particularly true in the financial services sector.
Regulators can further help businesses to plan for their future by provided a greater level of certainty regarding the guidelines for industries in years to come. Investment in digital transformation can be costly and time consuming, and the fear that such efforts could be rendered useless tomorrow by a change in rules often hampers transformation projects. As a result, 93% of businesses polled call on regulators to create a stronger sense of certainty for their sector.
Commenting on the results, Conrad Thompson, business transformation expert at PA Consulting, remarked, said "Regulators cannot… be complacent. Regulators need to be far more purposeful in their role as champions of the public. They need to be more comfortable with trying new approaches and techniques and being agents of change rather than burdens in their industries. More than ever, they need to be prepared to take risks and occasionally admit to past mistakes."