Sakata Unveils New Innovation Center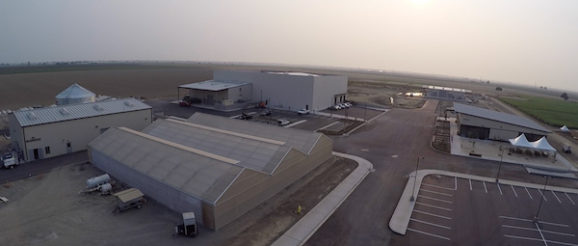 Sakata Unveils New Innovation Center
Sakata Seed America has announced phase one completion of the Sakata Seed America Woodland Innovation Center: a new research and production facility in Woodland, California.
Since announcing plans in 2016, the Sakata Seed America Woodland Innovation Center has been under construction to create an exciting culmination of infrastructure and land that enables Sakata Seed America to consolidate and expand R&D and production practices on a single, state-of-the-art campus, flexible for future expansion.
The Innovation Center is an $18.5 million investment comprised of 219 acres in Yolo county.  The four main buildings include:  the Head House, a shop for research and development that allows for washing and drying of breeder seed; multiple greenhouses for trialing important Sakata crops; the Farm Shop, used for production maintenance and equipment, drying of seed, and other related activities; the Washery building for washing, fluming, and drying all types of wet seed attached to the Warehouse, a 25,000 square foot space housing the latest technology in seed processing equipment and a LEED certified office building.
The facility will be officially inaugurated on Thursday, September 13, when Sakata will host a Grand Opening celebration at the facility's Farm Shop.
GPN recognizes 40 industry professionals under the age of 40 who are helping to determine the future of the horticulture industry. These individuals are today's movers and shakers who are already setting the pace for tomorrow.
75 Applewood Drive, Suite A
P.O. Box 128
Sparta, MI 49345
Get one year of Greenhouse Product News in both print and digital editions for free.
Interested in reading the print edition of GPN?
Be sure to check
out our sister site.