Salvamac: technological innovation and interpersonal relations at Holz-Handwerk 2022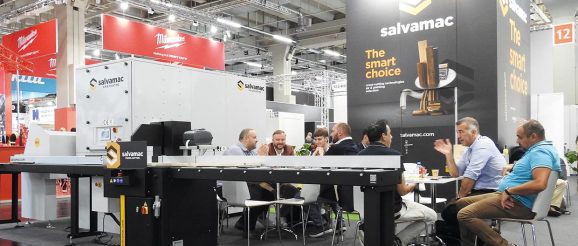 The recent Holz-Handwerk event in Nuremberg saw the official presentation a range of impressive new Salvamac Group projects and accomplished innovations.
"We exhibited at Holz-Handwerk not only to confirm our choices, show our machines, share our ideas and meet our partners, as we have done in the past and how we will do in the future, but also to kick off our new Salvamac projects and products. Something greater, a reality that has its roots in our tradition, passion and in the conviction that there are people and interpersonal relations behind all this. A project that finds a turning point in Nurnberg." With those words, Christian Salvador commented on the presentation of Salvamac Group at Holz-Handwerk, one of the most important international events for solid woodworking.
Salvamac founders: left, Christian Salvador, and right, Ziemowit Dolkowski on their stand at Holz-Handwerk
Salvamac co-founder Ziemowit Dolkowski says: "Our growth has been greater than 50% in recent months and it was a success that we really did not expect! A success that has not only concerned traditional and already consolidated products but the entire production range and which has led us to the creation of something greater: Salvamac Group."
Salvamac continues to move forward in its social and ethical approach to production, innovation by creating a true and relevant group that is based on the support of four production units in three different countries – obtain a winning mix of Italian heads and heart with dynamics, advantages and the competences of national realities in strong evolution
In this perspective, the Salvamac Group multiplies itself exponentially in three segments.
The cross-cutting part specialised in the cutting and optimisation of wood, the Air&Painting department where the suction, air filtration, the wood painting systems find the reference point and finally the brand new Salvamac Selection, a real innovation that will be the great natural evolution of the Salvamac project.
Salvamac cross-cutting – solid, simple, safe
A consistent catalogue focusing on automatic cutting lines, but also on semi-automatic cutters equipped with devices that make them real cutting centres. In Germany, the prime choice of the Salvamac optimisers, the Salvapush 2000 Windows pusher optimising saw, was presented with a brand new version of software for windows production that allows anyone to manage it simply and completely – as with a smart phone – with website graphics and all the practicality for setting data of a large touch screen, in digital communication among all electronic components.
Not only that, the recent developments in bar-code data import and the relative just-in-time management systems – from the development of the customer's order to the finished product –make it a unique solution for production processes even in single batches.
Salvamas's stand was busy throughout the divergent summer edition of Holz-Handwerk. The event's next outing in 2024 will be in its regular March timing
Flexible and cutting-edge technical solutions make it possible to communicate both upstream and downstream with company software management, thus creating fundamental principles of industry 4.0.
The cutting range is also complemented by the Classic cutting saws characterised by the three esses of Salvamac's philosophy: solid, simple and safe: – Solid because they are designed and made to work even in difficult conditions and of heavy wood. The structure is completely made of hard painted steel, very thick and very resistant
– Safe thanks to the two-hand safety control in an ergonomic position and the blade protection cover that allows to work in absolute safety
– Simple because the ease of use is increased by the new successful Salvastop 100 device, the evolution of the numerical control length positioning and stop system. It is the real solution to save labour costs, waste of productivity and decrease human errors and finally forget to use the tape measure.
Ziemowit Dolkowski continues: "We have worked hard to create the exclusive software, very easy to use thanks to an immediately understandable and effective, complete, powerful and flexible graphics. It includes five different sections and two different modes – stop or push".
Also using a 7in-PAD touch screen, in an excellent position for reading and programming, not forgetting the included and installed Internet tele-service software.
Salvastop can be installed on the Classic 40, 50 and Classic 60 models, substantially transforming the entry-level models into real semi-automatic cutting centres, made even more interesting by the possibility of interfacing them with the management software already available in the company.
Salvamac Air&Painting: suction and painting at the highest quality and with the highest safety
Thanks to Salvamac's 30-year presence on the market, always oriented towards high quality products, the company is already conquering positions on various markets, with an offer that – remaining faithful to the Salvamac philosophy – ranges from painting booths, equipped with innovative sandwich panels to provide greater resistance and devices that significantly reduce consumption, to the 'do it clean' sanding benches.
In addition to the Painting department, which includes perfect solutions for companies of different sizes and needs, we are able to offer ultra-robust and efficient portable vacuum cleaners, bag filters or cartridges, as well as complete customised systems. This is the mission of the Air department, all with the clear intention of exploiting the great potential of the internet with more traditional sales and assistance systems, always focusing on what the customer really needs.
As in the past, the choice of this edition is to show customers and partners, the latest versions of the new Voyager and Grande filter.
Salvamac Selection: a solution for every need
As part of the Salvamac project at Holz-Handwerk in Nuremberg, the third branch of Salvamac Selection will be set-up: a selection of different products with the same culture and philosophy that distinguish the company as an international company.
A real novelty that the creator Christian Salvador defines as: "Our network and its strength will allow us to introduce new products for the solid wood industry every month, high-quality machines, as in our history, but at a price that allows more companies to choose the technological path.
"The strategy is clear: to optimise the process and use every possible 'country advantage' to produce machines with the highest quality and affordable prices for the customer: this is the reason for choosing the Salvamac brand: machines that are simple to use and with which it is easier to cut costs and increase profits.
"A true network creation that gives the missing added value to our customers and to the whole wood industry. We are ready for the new challenge"