Samsung Galaxy Z Flip5: Incremental or monumental innovation? – BusinessToday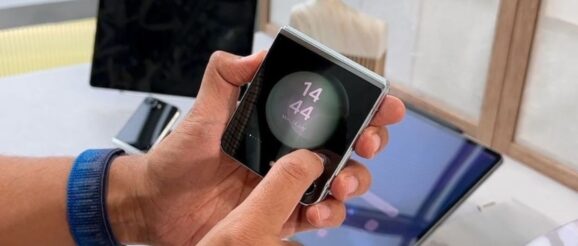 Samsung recently launched its latest foldable smartphones: Galaxy Z Fold5 and Galaxy Z Flip5. The new flip phone, Galaxy Z Flip5, is launched at a starting price of Rs 99,999. It seems buyers are confused if they should buy the latest flip phone rom Samsung or spend money on the cheaper year-old Galaxy Z Flip4 smartphone, which is now available at a starting price of Rs 89,999 on Amazon.  Buyers can even get a Rs 7,000 instant discount on HDFC Bank credit cards. Not to mention, there's also competition from Motorola and Oppo this time around.
Galaxy Z Flip5 buyers can get Rs 5,000 off via Amazon coupon and Rs 7,000 instant discount on HDFC Bank credit cards.
In my opinion, from the Fold5 to the Fold4 there has been incremental innovation. That's also because the Fold 4 is such a monster when it comes to multitasking, so it's hard to improve on that sort of performance. That said, if the aspect ratio was tweaked and the external display was made wider or more like a normal screen, it would've been a welcome change. 
Honestly, if you are getting a good deal on the Fold4, it's not a bad idea despite the new launch, but on the "flip-side", it's a whole different ball game.
Samsung Galaxy Z Flip5 vs Galaxy Z Flip4
The small notification screen seemed to work for Samsung for so many years when they were the only players in the market. Then comes along Oppo with a much bigger and more functional screen on the Find N2 Flip, but still not the whole gamut; then comes Motorola, the OG of Foldables, with a much improved flagship in the form of a Razr 40 Ultra.
But, the Samsung Galaxy Z Flip5 just looks so much more premium with the massive cover screen and build quality. Samsung now has a massive display on the outside, which is incredibly functional, and you can do all sorts of things including doing your work, using widgets and so on. Now, it's one thing to have a much bigger cover screen of 3.5 inches on the Flip5, but it's another thing to have a lot more utility and usefulness with that screen. You have several widgets, which you can often use without having to open the screen, except when you want to consume content on it. Now, under the hood, this comes with the Snapdragon 8 Gen 2 chipset.
They already had water and dust resistance on their Flip and Fold devices, which was a big industry first by Samsung a couple of years ago, but if you looked at last year's or any of the previous foldables, there was a gap between the display, when folded. You could fit a visiting card in between whilst folded, and that attracted a lot of foreign bodies or dust particles. Now with the new Flip5, the flexing mechanism is much smoother and when you do shut it, there is absolutely no gap in between. 
Verdict: Let's break this down for you. If you are confused about the Flip 5 vs the Moto Razor 40 Ultra vs the Oppo Find N2, the Moto Razr probably gives you maximum real estate on the external cover screen and you can do a lot more on it as well. But, the Samsung Flip 5 can do most of what's required and feels a lot more premium to hold and look at. It also helps that the device can be your remote control to the larger Samsung ecosystem. Now, if you thought you'd save a couple of extra bucks buying the older Flip 4 instead, then I'd recommend you change that plan. The Flip 5 is a monumental upgrade from the Flip 4, with the blockbuster external screen, better chipset and camera performance and hinge mechanism too. Basically, the Flip 5 is perhaps the best Flip device you could buy in 2023. 
Also Read: