San Antionio Institute of Cybersecurity and Innovation Helps Break Cycle of Poverty | IT Career Center | CompTIA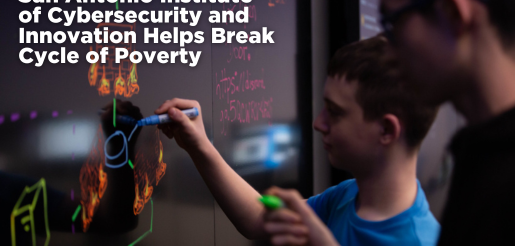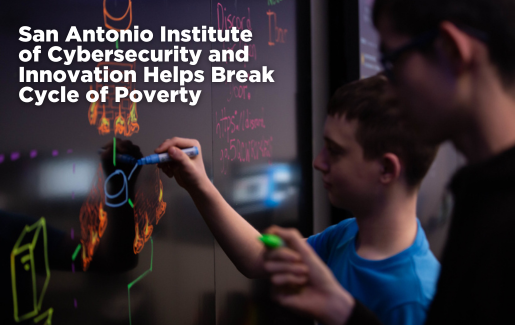 CompTIA has long been an advocate for the power of tech careers to change any person's life trajectory. The North East Independent School District (NEISD) of San Antonio, Texas, has the same belief. The city has the lowest median annual income in the country, and 50% of the K-12 students come from economically disadvantaged homes.
There are many opportunities for tech careers in San Antonio, however — it has a larger cybersecurity employment footprint than any other U.S. city except for Washington, D.C. More than 11,000 people are employed in tech jobs in San Antonio at present, and there are nearly 7,500 open tech positions.
NEISD created the Institute of Cybersecurity and Innovation (iCSI) in 2021 with the goal of helping students break the cycle of poverty and secure a better future. It was a long and exciting journey to get to where they are today.
About 10 years ago, Josh Beck, a teacher at the Engineering and Technology Academy (ETA) magnet program located at Roosevelt High School, became interested in cybersecurity and began to research curriculum to bring back to his students. Finding few resources at that time, Josh began to piece together his own instructional materials from various resources and his own experiences seeking industry-based certifications.
In 2012, ETA students took part in the CyberPatriot national competition for middle and high school students conducted by the Air & Space Forces Association. The following year, ETA started offering its first professional certifications in networking and cybersecurity to its students. Fast forward to 2020, when the ETA CyberPatriot team won the national competition. The following year, iCSI was opened.
"Initially, iCSI was a hard sell to parents — we had to conduct an extensive promotional campaign to make students and parents aware of the jobs that existed," said Deborah Caldwell, executive director of external relations for NEISD. The hard work paid off: "We had more than 300 students apply for 150 seats the first year. We had about an 80% retention rate of that first cohort, which is higher than our average at another satellite magnet program, and 85% of those first-year students completed the CompTIA IT Fundamentals+ (ITF+) exam. Now, in its third year, iCSI has enrolled 380 students for the 2023-2024 school year."
The students attend iCSI for two periods during the school day and are bused to the campus from their respective high schools and back afterward. As freshmen, students are taught the CyberPatriot competition curriculum and are prepared for the CompTIA ITF+ certification exam. Their sophomore year, students prepare for CompTIA Network+, and the junior-year curriculum focuses on CompTIA Security+. During their senior year, students can choose their area of study, which can include either of two Cisco certifications, CCNA or CyberOps Associate, or other certifications based on individual interest and achievement. Senior-year students also serve as mentors to other students and advise the CyberPatriot teams located at every middle school and high school in the district.
The facility, including two security operations centers (SOC) and two networking labs, is located in a previously an empty Walmart store. The campus includes an official Pearson VUE testing center, where students take their certification exams.
"This way they aren't intimidated by taking the tests at a college with older students," Caldwell shared. The district is reimbursed by the state for every student who passes a certification exam.
To date, NEISD has spent about $7 million to open the facility, and district officials are seeking another $6 million to complete the space, which will include additional classrooms and a competition arena for the district to use for robotics, CyberPatriots and community events.
CompTIA has been an iCSI partner from the beginning — NEISD students were training for CompTIA certifications long before the iCSI facility opened. Angel Pineiro, vice president for strategic academic relationships at CompTIA, played an integral role in getting the testing lab approved.
"The program is replicable, and we are proud to be setting the standard for other school districts and we encourage them to follow our example," Caldwell said. Students who complete the iCSI course and pass their initial certifications have the opportunity to earn an annual salary of $75,000 right out of high school — a significant motivator for many who have lived near the poverty level for most of their lives.
Connect with us to learn more about CompTIA workforce solutions.