Science and social innovation for a fairer tomorrow: Bayer Foundation publishes recent achievements in bi-yearly report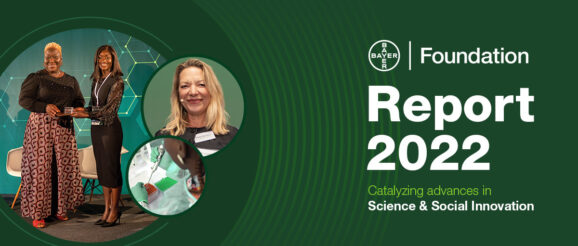 Bayer Foundation has published its 2022 report highlighting its activities to strengthen scientific capacities and social entrepreneurship around the world together with its partners. Among other initiatives, Bayer Foundation supports the development of scientific cross-border networks and awards researchers and social innovators for their achievements.
Bayer Foundation's programs foster female empowerment and boost the role of women in science and social innovation.
Fundamental research and cutting-edge advances in science are key ingredients to societal progress. At the same time, social innovators are needed to direct these innovations towards the people and communities who need them most. In its recently published bi-yearly report "Paving the Way for a Fairer Tomorrow", Bayer Foundation highlights initiatives that supported young and emerging scientists as well as social entrepreneurs around the globe over the last two years. Throughout its programs, Bayer Foundation puts particular emphasis on empowering female scientists and entrepreneurs.
Building bridges for scientific innovation
Connecting researchers and developing academic networks across borders is central to the Foundation's science-advancing initiatives. For example, the Foundation supported a program launched by its partner Alexander von Humboldt Foundation, the "Humboldt Research Hubs", to build scientific capacity in sub-Saharan Africa as well as strengthen networks between African and German scientists to help overcome recent and future health crises. To promote female leadership in science, business and society, Bayer Foundation cooperated with the Falling Walls Foundation to bring together talented female scientists from around the world to learn, network and offer each other support.
Supporting female social innovators
In the field of social innovation, Bayer Foundation partnered with Get in the Ring, a global startup competition, for the Foundation's annual Women Empowerment Award in January 2022. The award recognizes and celebrates the fact that many of the latest innovations in health, nutrition, and agriculture in sub-Saharan Africa are driven by female entrepreneurs.
Committed to a fairer tomorrow through science and social innovation
Over the past two years, Bayer Foundation has been working closely with its partners to achieve its vision of a world with Health for All and Hunger for None. "Identifying and supporting people who can shape a better and fairer tomorrow is our mission," says Monika Lessl, Executive Director of Bayer Foundation. "It is a very rewarding task. The perceived omni-challenges characterizing our day-to-day-life may wear us down at times," she adds. "But it is virtually impossible not to be amazed and electrified by the enthusiasm and ingenuity of the scientists and social entrepreneurs we work with. There is a lot to do. But I also have a lot of hope that a fairer tomorrow is within reach."
The full report can be read at https://www.bayer-foundation.com/news-stories/social-innovation/2022-bayer-foundation-report