Science Museum of Virginia Opens Community Makerspace to Celebrate Innovation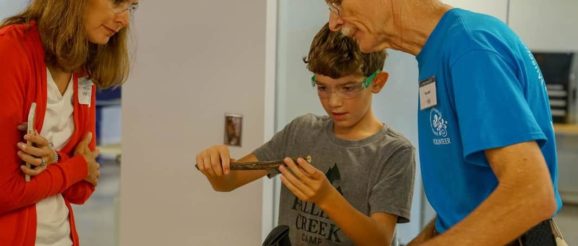 The Science Museum of Virginia is a great place for hands-on learning. The old railroad station is full of exhibits that teach. Another admirable way of learning is through making. To that end, the Museum has opened a Community Makerspace called The Forge. Not only will folks be able to check out creations of local makers the workshop will guests to get dirty and create.
Check out the schedule at the bottom of the press release for your own opportunity to make a guitar, scribble bot, or even a game controller.
Full Press Release:
Sometimes invention is born out of necessity; sometimes it's born out of curiosity and a lot of tinkering. In both cases, an idea is tested and refined until it evolves into a useful object that helps solve a problem. The Forge, the new permanent makerspace at the Science Museum of Virginia, both celebrates and demonstrates the process of design and fabrication.

The Forge harnesses the increased interest in, and appreciation for, the maker movement. Part showroom and part workshop, the 7,500-square-foot spaced highlights innovation while also encouraging guests to roll up their sleeves and create.

"The world is incredible – absolutely mind blowing – and science is our tool for understanding it," Chief Wonder Officer Richard Conti said. "Science, technology, engineering and math have always been at the heart of making things. The Forge is designed to help people see that, to facilitate those connecting moments where deeper engagement happens. Our hope is that they walk out of the Museum understanding the power and real-world application of STEM."

The showroom space, called the WestRock Gallery, is similar to other exhibits at the Museum in that it combines artifacts with interactive elements. It highlights innovative products created by Virginians, such as Reynold's Wrap®, blotting paper and the pull-tab for an aluminum can. Nearly 20 display cases feature objects that will rotate to allow guests to periodically see different artifacts and learn about new innovation stories.

Photo provided by Science Museum of Virginia

In this space, guests can also design their own floor-to-ceiling digital wallpaper, watch a 500-light swarm display colorful patterns based on music, explore a process board to better understand various textures such as quirk and leaf, and use a touch-activated display to learn about materials including carbon fiber, silica gel and vantablack.

The centerpiece of this space, which will be installed by the end of the month, is a large robot programmed by a team of volunteers at the Commonwealth Center for Advanced Manufacturing.

"People think about robots as doing repetitive, uninspiring tasks," Conti said. "We wanted this robot to perform, to create a masterful artistic creation right before people's eyes. Part of appreciating the maker movement is understanding every step in the process. Guests can watch the progress, not just see the final product."

Designed to look sleek, clean and modern while being functional, the workshop in The Forge provides multiple spaces that facilitate the creative process. Comprised of the Sharp Design Studio, workroom and machine shop, and equipped with computer hardware and software, hammers, vices, a CNC router, drill press, laser cutter, 3D printer and much more, this section takes guests to the next level by giving them the chance to participate in hands-on workshops using authentic tools and materials to expand their skills.

"We're living in a disposable society," Conti said. "We want, in fact we need, more people in our community to have the motivation, knowledge and confidence to build and repair items instead of just buying new ones. Having access to tools, machinery and a workspace can change behavior, which can lead to an innovative idea that could transform our world."

All guests can enjoy the WestRock Gallery during regular Museum hours. The workshop portion of The Forge has scheduled hours. In the morning, there are simple, self-directed engineering activities that can be completed in a short period of time. In the afternoon, there are scheduled skill-building workshops. These programs are longer, facilitated experiences that involve registration. Eventually the Museum hopes the makerspace becomes a place where someone takes a thought from the idea phase through to the final fabrication.

"Completing this space is the last of our major interior refurbishments, and we are OK with taking a little while to figure out how to maximize it as a resource," said Conti. "We will rely heavily on feedback from guests, users and the community. We aren't going to force The Forge to be something specific. The useful knowledge, skills and abilities it helps develop in users will build over time."

Photo provided by Science Museum of Virginia

The Forge, which is included in Museum admission, opened to the public Saturday, Sept. 29. The opening corresponded to the Museum's expanded hours of operation, which are now seven days a week from 9:30 a.m. to 5 p.m.

"I'm excited about the opportunities and possibilities that having The Forge creates," Conti added. "It is important to us that guests have a place in the Museum to both see and do, a space for applied inspiration where we encourage open, unrestricted and hands-on exploration. By giving people resources to actually 'do,' The Forge will spark new ideas, build confidence and help guests realize that anything is possible."

The Forge workshop schedule is available at www.smv.org/theforge.

The Forge is made possible through major support from WestRock Foundation, the Cabell Foundation, the Moses D. Nunnally, Jr. Charitable Lead Unitrust B, the Sharp Foundation, the Windsor Foundation Trust, Institute of Museum and Library Services, Joan and Morgan Massey Foundation, CarMax and a number of other individuals and institutions.
The post Science Museum of Virginia Opens Community Makerspace to Celebrate Innovation appeared first on RVAHub.