Singapore and Vietnam expand scope of economic cooperation, sign deals on sustainability, innovation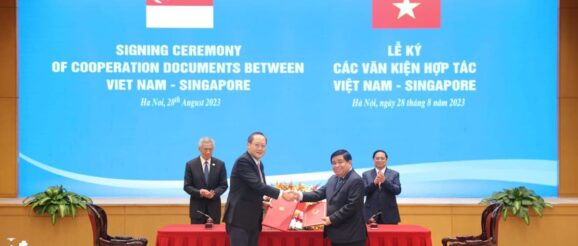 SINGAPORE: Singapore and Vietnam have expanded the scope of their bilateral economic cooperation and signed agreements in several areas such as the green economy and innovation. 
Singapore's Minister for Manpower and Second Minister for Trade and Industry Tan See Leng and Vietnam Minister of Planning and Investment Nguyen Chi Dzung exchanged side letters on Monday (Aug 28) that effected the upgrade of the Framework Agreement on Singapore-Vietnam Connectivity.
The upgraded Connectivity Framework Agreement (CFA) expands the scope of Singapore and Vietnam's bilateral economic cooperation, the Ministry of Trade and Industry (MTI) said in a press release.
This is the first upgrade and expansion of the CFA since it was signed in 2005, it added.
From the previous six sectors of cooperation outlined in the framework agreement, the upgraded version will now cover five pillars of cooperation in 11 areas, including energy connectivity, sustainability, infrastructure, digital and innovation and connectivity.
"This reflects the increased business opportunities in current, new and emerging growth areas," MTI said.
Singapore and Vietnam also signed a Memorandum of Understanding (MOU) on the Innovation Talent Exchange Programme to "enable Singaporean professionals to seek working stints in eligible innovation-related areas of work in Vietnam, and vice-versa".
Both sides have agreed to set up a joint taskforce to support the implementation of the MOU, said MTI.
The two countries also made progress in the areas of climate change and renewable energy cooperation.
Singapore Prime Minister Lee Hsien Loong and Vietnam Prime Minister Pham Minh Chinh witnessed the conclusion of the partnerships.
"The conclusion of these agreements, witnessed by Singapore and Vietnam's leaders, signal both countries' commitment to build stronger partnership in the emerging areas of green economy, digital economy and innovation," said Dr Tan.
"We will continue working closely with our counterparts to create new avenues and more opportunities for our businesses and people."