Singapore's Startup Scene Ventures into a New Era of Global Innovation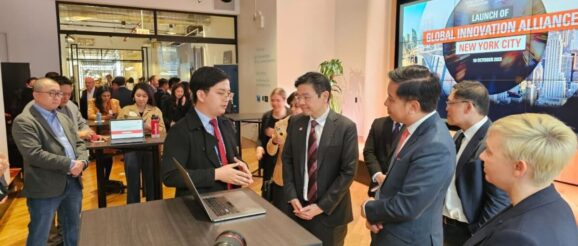 Global conflicts and economic downturn are having a major effect on many global markets, including the US. In turn, that is causing a reduction in venture capital, in part due to conditions like cautious investors, a dip in valuations, and a stagnant IPO market. And it is only likely to get worse should a government shutdown occur in the near future since that would completely freeze any IPOs and further strain the economy.
However, in stark contrast, Singapore is currently shining brightly on the opposite end of the spectrum from the US. Instead of unsteady venture capital, the small country is surpassing the US in venture capital funding per capita. The secret? Exceptional startups.
Singapore's Global Reach
Although Singapore is small, around a quarter of the size of Rhode Island, it has a dense population nearly five times greater. On top of that, it has built up a positive reputation when it comes to innovation and as a hub for global startups.
Because of its popularity, the blossoming startup scene has attracted several renowned enterprise tech firms, which has only served to make the startup ecosystem even more vibrant. But Singapore is not slowing down, expanding its reach with a presence in NYC.
Strong Singapore Presence in NYC
As of October 9th, Enterprise Singapore, a statutory board under the Singapore Ministry of Trade and Industry, has a Global Innovation Alliance node in New York City. The move came as part of a collaboration with the US-based WEVE Acceleration, known for fostering Asia's most promising businesses.
The overall purpose of the launch event was to equip Singapore startups with insights, networks, and resources that can help them penetrate the US market. As part of the program, the startups benefited from mentorship, networking events, and educational sessions.
As part of the launch event, the Deputy Prime Minister of Singapore, Lawrence Wong, gave a presentation, and other Singaporean government officials also attended. Also in attendance was WEVE Acceleration CEO Frances Simowitz, who expressed her excitement about the launch of the New York GIA program.
On the last day of the launch event, Demo Day, companies even had the chance to pitch themselves to WEVE's enterprise contacts and investors to generate new business and funding opportunities.
According to WEVE's CEO, things are already looking positive. Simowitz remarked, "We are already observing wonderful chances opening up for these nine Singaporean entrepreneurs, and we are aware that there will be many more in the future."
China Trading Desk
Another notable attendee at the launch event was China Trading Desk, a member of WEVE's GIA program Fall 2023 Cohort. Their goal is to aid global companies in connecting with Chinese consumers using proprietary data to navigate cultural and informational challenges — something many find difficult to do.
Subramania Bhatt, China Trading Desk's CEO, remarked on the invaluable experiences and insights they gained in just three weeks with WEVE Acceleration. In particular, Bhatt emphasized the program's role in enhancing their understanding of the US market. "This week has been an eye-opener for us to understand the U.S. market. From engaging with mentors to talking to business introductions to curated sessions that were tailor-made for our specific objective."
Emerging Startup Powerhouse
The partnership with the US is just one aspect of Singapore's increasing prestige as a startup powerhouse. The robust ecosystem is no longer a secret, and the country has worked hard to cultivate a conducive environment for innovation across sectors and position itself as Asia's innovation and connectivity nexus.
Part of the continued journey will be deeper cultural exchanges with the US and other countries, as well as a commitment to mutual growth in entrepreneurship. It is a commitment already showcased with the participation of government officials from Singapore in the New York GIA initiative.
The Future is Borderless
Singapore's startups are at the forefront of a new era of innovation that transcends geographical boundaries. As they continue to bridge continents, they're setting the stage for innovators worldwide to flourish. And the benefits are not limited to Singapore, with the end result to see significant partnerships between the two countries in the realm of entrepreneurship.
The post Singapore's Startup Scene Ventures into a New Era of Global Innovation appeared first on Grit Daily News.