Smucker looks to innovation and marketing to build brands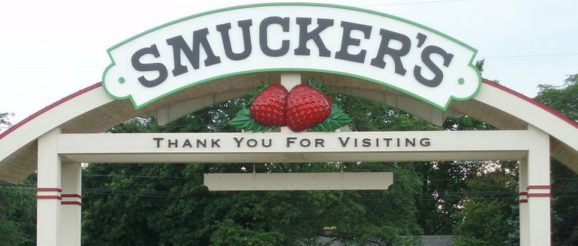 Dive Brief:
The Ohio-based maker of Jif, Folgers and Crisco has been pursuing mergers and acquisitions to drive growth, but it is now engaged in a brand-building initiative using consumer insights and data capabilities to enhance innovation and marketing, as well as operations and distribution.
Geoff E. Tanner, Smucker's senior vice-president of growth and consumer engagement, said during an annual investor day in New York this month that Smucker has strong positions in different categories, but "

relying on these scale advantages is no longer sufficient. … 

To enhance our innovation capabilities, we need brands that consumers love, not just know and trust. We need to ensure we have distribution strength in emerging channels. And we as a company need to embrace agility and a more flexible manufacturing footprint."
Dive Insight:
Like many big CPG companies, Smucker is doubling down on marketing and innovation instead of M&A, although it has certainly been active in that department in the recent past. The company made a major $1.7-billion purchase earlier this year of Ainsworth Pet Nutrition — which has already helped boost its bottom line — and just closed a $375-million deal to sell its Pillsbury, Martha White, Hungry Jack, White Lilly and Jim Dandy baking brands to Brynwood Partners' Hometown Food Co. Now that the company has refined its portfolio, Smucker seems to be ramping up its brand-building model.
Smucker plans to take more time and energy to concentrate on building its core brands and bolstering those that haven't been doing so well lately — such as Jif and its signature jams and jellies. Increased digital marketing will be a part of this effort, as well as tools to quickly assess marketing approaches and change strategies if necessary, Food Business News reported.
As part of its new initiative, Smucker will be working with IDEO, a global design and innovation consultant, to help with development of new products and training employees. And the company said it will be emphasizing partnerships with food startups.
"When it comes to innovation, we think about three different types: sustaining innovation largely to maintain the vitality of our core business; scaled platform innovation, where we're moving into new categories or segments; and emerging innovation, where we're pushing further into white space. Frankly, this is an area of opportunity for us, which is why we're deploying a new approach to venturing," Senior Vice-President Geoff E. Tanner told Food Business News.
This decision is on-trend with large companies that have been investing in more startup brands. Partnering with creative new firms could be a way for the company to jumpstart innovation and harness new energy.
The company has been on this path in the recent past. This summer, Smucker joined with Rev1 Ventures to find startups with promise in the areas of ingredient and process technology, snacking, commodity and supply chain. The company has also been working alone to change up its portfolio. It's introduced creative products such as its Folger Simply Gourmet coffee, Uncrustables frozen sandwiches, Dunkin' Donuts K-Cups and Jif Power Ups snack bars.
It's still early days for this brand-building initiative, but Smucker may be able to make headway with innovation and building up its core brands — as long as consumers still want to buy them and aren't moving on to new products they see as delivering better value, quality or flavor. Longtime legacy brands such as Smucker know they have to do more to shake things up as consumer tastes change — and they can no longer rely on their well-known products to drive sales. The next few quarters should show whether the new direction is bearing fruit.
Recommended Reading: