South Fremont Jr. High to receive INL grant, develop innovation center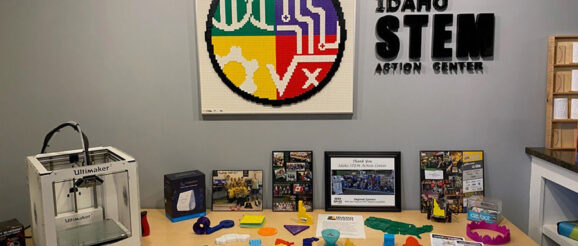 ST. ANTHONY — With a $15,000 grant they recently earned, South Fremont Junior High School intends to establish an innovation center brimming with various media production, computer programming, and maker labs.
Librarian Rebecca Ricks applied for the "Gov. C.L. 'Butch' And First Lady Lori Otter INL/Bea STEM Impact Grant: 2023" in mid-February, she told EastIdahoNews.com. Then, she didn't hear anything about the grant for months.
That is until she received a call Monday telling her that her school had been selected as the grant's recipient.
The goal in applying for the grant, Ricks said, was to create more "hands-on learning" opportunities that shifted the focus of the school's education from the end result to the learning process.
"Process learning, that's something our teachers have always tried to incorporate but its just giving them the opportunity to do these hands-on projects is always an issue, just for funds," she said.
"I am excited. I, honestly, am not sure how the students are going to react," Ricks added, explaining that, given their ages, her students often shield their excitement. "I think they're going to appreciate it once they see it in action — once they see what they can actually do."
Among the new facilities the grant and innovation center will bring, Ricks believes the media production lab will be the most popular. There, students will have access to photo and video cameras, backdrops, green screen and a sound production studio.
In time, Ricks added, there is some hope the music students will be able to record songs in the media lab.
"The goal for the media production lab — it's such a key skill now, most industries utilize media production," Ricks said. "I want all our students to leave our school with the basics of that skill."
A graphic design lab, she added, will carry a similar idea — to give students base knowledge in a highly useful skill. That process will begin when students use the lab to design the school yearbook.
A computer programming lab will be used to teach students programming and cyber security. And a maker lab will give students a space to "build, test, redesign and rebuild," Ricks added.
Finally, the grant will be used to purchase a growing tower for the biology class.
"Our seventh-graders are learning life sciences. This will give them a chance to dive into botany," Ricks said.
INL K-12 Education Programs Manager Jennifer Jackson will present the school with the grant on Monday, May 22 — which is when many of the students will learn of the school's plans.
The innovation center will be used, at least to start, for teacher-led classes. But the hope is that the space will eventually be part of the school's shared use space — like the library to which it is attached.
"Eventually, we're working to having it be a space where students can just come and work on projects for themselves," Ricks said. "It's a space to learn and to provide opportunities."
The post South Fremont Jr. High to receive INL grant, develop innovation center appeared first on East Idaho News.