Special Olympics Youth Innovation Grantees announced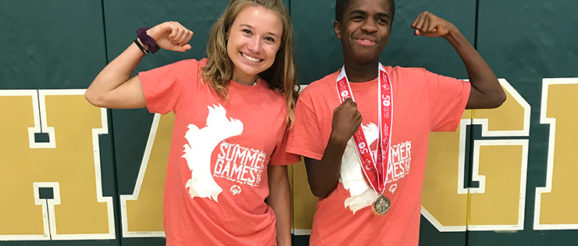 Special Olympics North Carolina youth leaders receive funds
Special Olympics North Carolina youth leaders are among the inaugural recipients of Special Olympics International's Youth Innovation grants. Nineteen student-led inclusion initiatives in communities across the United States received funding that aims to advance broad range of inclusion initiatives and Special Olympics Unified Champion Schools®.
Kayla Amy and Josh Cannon, both of Northwood High School in Pittsboro, received one of the Youth Innovation grants and will use the $2,500 grant to fund a year-round focus on Unified Sports® programming in Chatham County. The pair will work with school leadership to plan and implement Unified track, Unified softball and Unified flag football training and competition opportunities throughout the 2018-2019 school year.  The entire Northwood High School student body will participate as fans and supporters of these inclusive teams.
"Through our Youth Innovation Grants, we are investing in the next generation of change makers and their outstanding ideas — the generation who is leading the inclusion revolution," said Dr. Tim Shriver, Chairman of Special Olympics. "We look forward to seeing this investment hurry history and help deliver a complete end to discrimination against people with intellectual disabilities."
The funded projects will help to both strengthen and create more Special Olympics Unified Champion Schools® — schools that combine Special Olympics Unified Sports®, inclusive youth leadership and whole school engagement to create school and community climates of acceptance and inclusion. Special Olympics Unified Champion Schools® is funded by the U.S. Office of Special Education Programs at the U.S. Department of Education.
Students with and without intellectual disabilities applied for funding as individuals or as inclusive pairs (two people with and without intellectual disabilities). Special Olympics programs from Hawaii, Illinois, Maryland, Massachusetts, Michigan, Minnesota, North Carolina, Oregon, Texas, Washington State, and Wyoming will receive the first round of funding.
The grants are being made in Special Olympics' 50th anniversary year. As part of the celebration, the organization is challenging people across the globe to join its "Revolution is Inclusion" campaign — an all-out effort to end discrimination against people with intellectual disabilities. Led by Special Olympics athletes, the organization launched the campaign because despite progress, exclusion is still real for millions of people with intellectual disabilities in every aspect of their lives. The good news is: when the world chooses to include, #choosetoinclude, everything changes in a positive way for everyone. The public can show their support by taking the Inclusion Pledge at JoinTheRevolution.org.
About Special Olympics North Carolina
Throughout 2018, the Special Olympics movement is celebrating 50 years of joy, courage and empowerment. Since 1968, the organization has used the transformative power of sports to improve the lives of children and adults with intellectual disabilities. Nearly 40,000 athletes in North Carolina inspire thousands of coaches, sports officials, local program committee members and event organizers involved in Special Olympics statewide.  SONC offers year-round training and competition in 19 Olympic-type sports on local and state levels as well as health and wellness initiatives to improve the health status and increase access to community health resources for individuals with intellectual disabilities. Youth become agents of change through Unified Champion Schools, an education and sports based program created by Special Olympics to build an inclusive environment among youth with and without intellectual disabilities as well as empower them to become youth leaders and create change in their community. Visit Special Olympics North Carolina at . Engage with us on Twitter, Instagram, Facebook and YouTube. 
The post Special Olympics Youth Innovation Grantees announced appeared first on SONC.