Spotlighting Innovation: Emerging Talent Initiative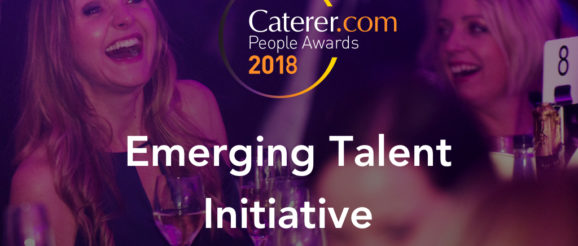 In the current climate of skills shortages within the hospitality industry, it's vital that employers create talent pools and pathways that can secure their future requirements. Nurturing emerging talent equals a positive impact on employee retention, productivity, and customer satisfaction, not to mention savings on recruitment costs. However, what about the view from the other side of this equation? What about the benefits for your candidates? In the best circumstances, it can enrich their lives in ways you may never have even considered.
The Emerging Talent Initiative category is just one of the popular categories in our Caterer.com People Awards. The judges look for employers that go that extra mile to engage and nurture talent. They seek evidence of innovative programmes that deliver measurable results around skills attraction and retention and help drive down recruitment costs.
Shortlisted in the 2018 Emerging Talent Initiative category are:

• Apex Hotels Ltd
• Elite Hotels
• Greene King
• Hallmark Hotels
• Hilton UK & Ireland
• Mandarin Oriental Hyde Park London
• Red Carnation Hotel Collection
• SACO, The Serviced Apartment Company
The judging panel for this category were a goldmine of hospitality talent:
Dawn Turner, Area Director of HR – UK & Ireland – Hyatt
Dawn is currently Area Director of Human Resources – UK & Ireland, overseeing over 1000 colleagues. She first joined Hyatt as an F&B intern at Hyatt Regency Bellevue in Seattle in 1990 and then worked for a couple of national hotel brands in the UK before rejoining Hyatt in 1994 as HR Officer. Dawn has held various roles in Human Resources, gaining experience in generalist HR and Training.
She has over 30 years' experience in hospitality, with more than 25 in Human Resources across a number of hotels worldwide.
Dawn is a graduate member of the CIPD and also a BSc graduate in Hospitality Management from New Hampshire University in the US. She is skilled in Generalist Human Resources, Employee Relations, Balancing Strategy with practical implementation, Change Management, Team Building, Motivation, Recruitment and Retention, Coaching, Employee Engagement, Talent and Project Management and Pre-openings.
Debbie Vickers, Area Director of Human Resources – UK & Ireland – Marriott Hotels International
Commencing her career in hotel operations, Debbie joined The Savoy Group of hotels as a Management Trainee on their 5-year programme.
She subsequently joined Forte Hotels and Le Meridien hotels in various Training and Human Resources roles.
She has been in her current role of Area Director of Human Resources for UK&I for 5 years, supporting 60 hotels and approx. 12,000 associates. Her role enables her to be both a strategic and pragmatic business partner, who strongly believes in team work, employee engagement and development to drive positive business results.
Debbie is a Fellow member of the CIPD and strongly supports youth employment strategies and driving closer links between education and employers.
Gemma Boulding, Head of Recruitment & Attraction – Las Iguanas
Gemma started her career journey with Las Iguanas in 2010 when she was just 21 years old. Initially taken on as the company's first ever Incentives Coordinator, Gemma's role saw her solely dedicated to motivating and rewarding their people. Interestingly, Las Iguanas was one of the first brands in the hospitality sector to create such a position.
In 2014, looking for her next big challenge within a vibrant brand she felt passionate about, Gemma went on to create and head up the Las Iguanas recruitment team.
Responsible for overseeing the recruitment department, creating and implementing a successful attraction strategy, and recruiting industry leading managers, Gemma has successfully cut agency spend by 70%, driven employer brand, and provided exceptional candidate experience.
James Ellis-Smith, Director – One Avenue Recruitment Limited
James' passion and expertise for this industry it has culminated with him holding senior positions in high profile companies. With 15 years of Operational experience within the Hospitality Industry at all levels prior to starting One Avenue Recruitment, James has an appreciation of the pressure and prerequisites needed to succeed. James had been Directing Operations, Consulting, Recruiting, Developing and Training across a spectrum of disciplines during this time, thus earning him high respect and admiration within the industry.
James, with Michael Rawlings founded One Avenue Recruitment & Consultancy ten years ago. They had spent considerable time researching, developing and planning their strategy to create a new, fresh and innovative approach to Hospitality Recruitment.
The company has now evolved into a business that has one of the best reputations in the country for understanding the needs of clients and candidates alike, and to deliver for them an unrivalled service.
Jose Ruiz, Director of Employee Experience – The London EDITION
Jose started his career in hotel operations spending three years in F&B and three years in Front Office where he worked his way up to management.
Having discovered a passion for developing talent, Jose moved into Human Resources, and over the following 10 years, Jose held leadership HR roles at The Montcalm, Park Plaza, The Berkeley and Shangri-La.
After opening Shangri-La hotel in the Shard, Jose spent 2 years at Apple as Talent & Development Manager before returning to hospitality in 2017 joining the team at the London EDITION, where Jose is currently Director of Employee Engagement.
Louise Phelps, Group Talent Manager – Splendid Hospitality Group
Louise is a fresh face to the Hospitality industry having been with SHG 18 months and is one to watch. She heads up Talent Acquisition within Splendid, focussing on SHG's unique recruitment process.
Louise has implemented an award winning Careers Website and Applicant Tracking System for SHG and has a huge passion for hospitality, diversity and inclusion and building lasting relationships and partnerships.
Rachel Rojas, Head of Recruitment – Gaucho & Cau Restaurants
Rachel has worked in hospitality since her teen years and worked her way up in management over an 8 year period for Gaucho before coming into Head Office. She now heads up national recruitment for both the Gaucho and CAU brands.
With a passion for food, restaurants and all things hospitality, she most enjoys finding candidates a home in either of the two brands and watching them thrive.
Particular highlights for her are having the opportunity to share the company values and finding people who are similarly passionate about the same standards and principles of hospitality that are alive in the company.
Let's take a look at the incredible initiatives put in place by our shortlisted employers:
Apex Hotels Ltd.
The hotel group wanted to focus on changing perceptions of hospitality and chefing amongst young people, Apex Hotels created a new role within the company and promoted Head Chef John Newton to Head Chef for Education.
John's role sees him go out to schools, colleges and universities to promote chefing as a full-time career as well as teach skills to high school students, which have been disappearing from the industry including fishmongery, butchery and knife skills.
Through the Job Education Training (JET) programme in Edinburgh, John has closely mentored three high school students over 12 months, ensuring they develop the skillset to go far within the industry. All of the initiatives that have been put in place by Apex Hotels, and the HR and recruitment team, have seen positive results, securing new apprentices, upskilling existing members of staff and raising awareness of Apex Hotels, and hospitality in general, as an excellent career choice.
Elite Hotels
Elite is a champion of long-term careers in hospitality and seeks to attract budding talent at a young age by working with schools and colleges locally to each hotel. Each hotel visits schools, attends careers fayres and offers advice to anyone considering working in hospitality.
There are several Springboard Ambassadors in the group, who actively present to schools and colleges and they also have dedicated industry champions, who work to support local education providers. Opportunities to gain experience of working in hospitality are offered to people aged 15+ through work experience schemes, offering places to people from the UK and overseas.
Elite has encouraged apprenticeships across different departments of its four hotels, from apprentice chefs to apprentice accountants. Prior to the Apprenticeship levy coming into effect, Elite developed a formal apprenticeship strategy, identifying which areas of the business would benefit most from apprentices and where they could learn the most. Over the past year, Elite has attracted 209 new contracted and casual workers. Developing a talent pipeline has reduced recruitment costs and resulted in the appointment of a dedicated Recruitment Officer to enhance the employer brand and target key vacant positions. This year increased holiday entitlement was awarded to all staff with two years or more service.
Greene King
The pub chain has invested heavily in attracting candidates to their Apprenticeship programme. This has included attending career fairs, employing two School/College Officers, revamping their careers website and social media to make it more attractive to their target audience and hosting Recognition events & entering awards to raise our profile. Hospitality has a stigma of low pay and long hours.
Greene King has refined their message so applicants can see that they can progress in a company that employs over 42,000 people, has over 3,000 sites and opportunities to work all the way up to degree level. Greene King also pays above national minimum wage rather than the apprenticeship wage which means apprentices earn a great wage while gaining a qualification.
Hallmark Hotels
To establish a high performance culture and the opportunity to grow, nurture and invest in their own talent, Hallmark Hotels introduced the Hallmark Top Talent Programme in 2016 to realise the potential for future leaders. Along with a CV, The applicant answers four questions with an endorsement from their GM.
Senior Leadership Team are assessors throughout the training day, who look for team work, communication skills, working under pressure, diplomacy, influencing, persuasion, initiative. Exercises assessed and successful candidates are chosen by the panel. A golden ticket is issued to successful applicants, inviting them onto the one year programme with mentoring master classes.
Red Carnation Hotel Collection
The challenge Red Carnation faced faced was how to attract the best talent and how to spend their Apprenticeship levy funds in the best possible way. They approached Pearson, an internationally recognised College in Holborn and held numerous meetings to ensure they were offering the best programme to prospective apprentices. They then created a job description, sent images and company logos with Pearson marketing the degree across numerous platforms.
Red Carnation had a fantastic response and 158 prospective apprentices applied and successfully got through to the workshops held at Pearson. The best candidates were then invited to a Red Carnation recruitment day for a presentation. To lighten the day and show off the hotel industry, the hotel gave them lunch and showed them around a number of hotels. Five apprentices were chosen who will start in September as fully fledged Red Carnation Hotel employees and future industry stars.
Hilton Hotels UK & Ireland
Hilton UK & Ireland has introduced ELEVATOR, a personal development program for globally mobile graduates to prepare them for a hotel GM position within 5-8 years. It is the first rung on their talent management ladder, offering accelerated development into a first management position followed by a fast track, structured career path with on-going development to help them maximize their future potential with Hilton.
There are 38 managers in the business who have completed the Graduate Management Development Programme and have been successfully placed into senior management roles and Hilton's graduate retention rate improved by 14.33% to 81% in the last 6 months.
Mandarin Oriental Hyde Park London
In 2016, MOLON commenced a two-year refurbishment project which would support the hotel's ambition to be the luxury London hotel of choice. To support this, MOLON embarked upon a three-year strategy which focused upon key HR areas including talent attraction and development. Among many initiatives and programmes put in place, MOLON reviewed and re-wrote their existing training programme; helping them to attract the best students from across Europe. When graduates join the MOLON programme, they now receive a structured plan including content and development they will receive during their 12 – 18 months of the course.
This includes: A mentor from one of 10 senior leaders who spend at least two hours a month with their mentees; 10 full day leadership development sessions with the internal L&D team and senior leadership; A 'buddy' in the form of another trainee who has been in the business for at least six months; Access to Cornell University's online distance learning modules. Labour turnover has reduced 10% YOY ( 2017 vs 2016) even with a reduction in headcount throughout 2017 demonstrating that, although the hotel was going through a challenging renovation, the increased focus on talent development has positively impacted the business.
SACO, The Serviced Apartment Company
SACO has created the SACO Apprentice Scheme for existing colleagues to support their personal and professional development. The 18 month programme in partnership with Weston College provides colleagues with qualifications funded by SACO, Level 3 Institute for Leadership and Management (ILM) Diploma and Level 3 Team Leader Apprentice Framework qualification. The Level 3 ILM is a transferrable qualification which is well recognised across a wide range of industries. On the job experience is offered, developing fundamental and transferrable skills including customer service and people skills.
Time and support from an experienced business mentor. In house training is provided, for example on understanding and reviewing a P&L or training on HR processes. There are opportunities for career acceleration with the potential to become an Assistant Apartment Manager within 18 months. The SACO Apprentice Scheme has been successfully received by the business, with colleague's openly acknowledging how it was a big step-on to help ambitious individuals' progress within the business. Labour Turnover in operations is down to 32% and recruitment costs reduced YOY.
Who will win the Emerging Talent Initiative category?
Be there at the 2018 Caterer.com People Awards at the Park Plaza, Westminster Bridge, October 1st to find out.
For table bookings www.caterer.com/people-awards/tickets/