Startup Producing Ocean Wave Energy Scoops Innovation Award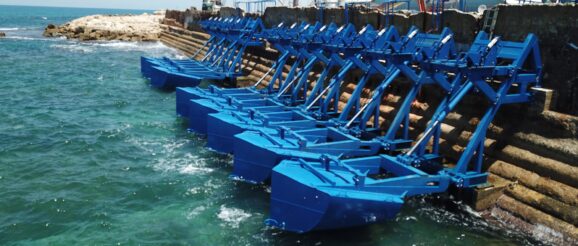 A startup that turns ocean waves into electricity has received an award for its innovation from the nonprofit AltaSea, a hub for marine science, research and education. 
Eco Wave Power Global transfers the motion of ocean waves to power stations on land using its uniquely shaped floating devices, which rise and fall with the waves' up-and-down motion and the changes in water levels. The power stations convert the energy into fluid pressure used to spin a generator, producing electricity.
Founder and CEO Inna Braverman was named the recipient of AltaSea's Innovation Award at its annual Blue Hour event, which is given to companies or individuals that are creating innovative solutions to some of the world's most pressing problems.
AltaSea is also the location of Eco Wave Power's first US pilot station, which is set to be installed in the coming months. 
"This award embodies two of my greatest passions – one is my work with Eco Wave Power and the second is my efforts to promote gender equality in the STEM sector," said Braverman during her acceptance speech.
"I founded Eco Wave Power when I was 24, and back then everyone told me that wave energy is impossible, but I kept working hard to prove that wave energy is possible. I never gave up. Now, Eco Wave Power has a grid connected power station in Jaffa Port, in Israel, a planned pilot station here in the Port of Los Angeles, which will be the first of its kind in California, and a first commercial scale power station in final planning phases in Portugal," she said.
Braverman concluded her acceptance speech by asking for prayers and support for her home country.
"While we are having a Blue Hour here, Israel is having one of its darkest hours, with over 1,300 citizens killed and more than 100 citizens kidnapped in Gaza," she said
"In these dark days, I would ask you to support Israel and stand with Israel. Because in the end, we will not remember the words of our enemies, but the silence of our friends."
The post Startup Producing Ocean Wave Energy Scoops Innovation Award appeared first on NoCamels.