State Innovation Model introduces 'whole person care' to Durango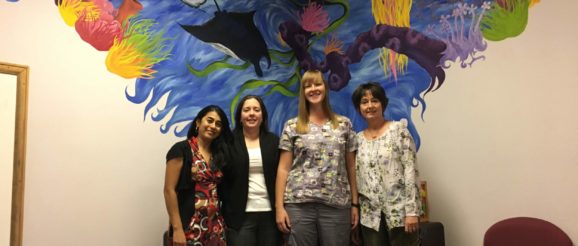 Primary care providers in La Plata County have begun work as part of a governor's office initiative called the State Innovation Model.
Colorado received a $65 million award from the federal Centers for Medicare and Medicaid Innovation to better integrate physical and behavioral health care, as well as experiment with new health care payment systems.
The goal of the program is to create a way to care for physical, behavioral and mental health all in one, unfragmented package.
Pediatric Associates of Durango is one of four practices in La Plata County accepted into the program that provides funding, advisers, and networking with other groups and practices throughout the state.
The program has allowed Pediatric Associates to hire a behavioral health provider. The goal is to make integrated care a permanent fixture at the practice, said Owner Pakhi Chaudhuri.
Integrated care means when a patient comes in for an annual check-up at Pediatric Associates, he or she can be treated for mental health as well as the traditional physical health ailments that doctor's offices provide.
For example, a patient may be screened for depression, or parents can discuss their child's problems at school, while receiving a check up for cold symptoms, said behavioral health provider Ruth Watkins, with Pediatric Associates.
With integrated care, the patient does not have to go searching for a mental health provider, because the mental health care is in-house at Pediatric Associates, Chaudhuri said.
"They're getting full, wrap-around sort of care," she said.
Watkins said parents have reacted positively to being able to receive behavioral health care at the pediatrics office.
The practice also has access to software and networking opportunities.
Pediatric Associates can access medical records-keeping software that can track patient history. So, if a patient once went to the emergency room for a crisis situation, Pediatric Associates can see that and be clued in to the patient's history, Chaudhuri said.
Watkins has also created a behavioral health "how-to" handbook that the practice has been able to share with other practices throughout the state that are in the program.
A second component to the program is alternative payment methods.
Patients and insurance companies are billed for one integrated service, rather than individual pieces, which should keep costs down, Chaudhuri said. Because this saves the insurance companies money, in the future, practices may be reimbursed a sum of money, she said.
Integrated care improves the services practices are able to offer their patients, makes seeking care easier for patients, and over all, improves the health of patients.
"I don't know how I practiced medicine without a behavioral health person," Chaudhuri said.