stc Group and Alaian sign deal during MWC 2023 to share best practices and success cases in innovation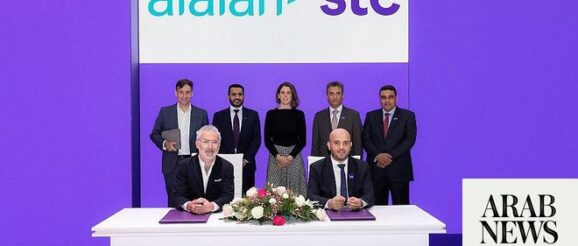 LONDON: Oil output by the Organization of the Petroleum Exporting Countries rose in February led by a further recovery in Nigerian supply, a Reuters survey found on Tuesday, despite strong adherence by top producers to an agreement by the wider alliance, known as OPEC+, to cut production to support the market.
OPEC has pumped 28.97 million barrels per day this month, the survey found, up 150,000 bpd from January. Output is still down more than 700,000 bpd from September.
Nigeria has been battling crude theft and security issues in its oil-producing region, hitting output. Many crude streams exported more in February, the survey found, although Africa's top producer is still pumping much less than its OPEC target.
OPEC and its allies had been boosting output for most of 2022 as demand recovered from the pandemic. But for November, with oil prices weakening, the group made its largest cut since the early days of COVID-19 in 2020.
They decided to cut the OPEC+ output target by 2 million bpd, of which about 1.27 million bpd was to come from the 10 participating OPEC countries. The target remained in place for February.
With the rebound in Nigerian output in February, compliance with the agreement increased to 169 percent of pledged cuts, according to the survey, against 172 percent in January.
Output is significantly undershooting targeted amounts because many producers — notably Nigeria and Angola — lack the capacity to pump at the agreed levels.
The 10 OPEC members required to cut production pumped about 880,000 bpd below the group's target, the survey found. The shortfall in January was about 920,000 bpd.
Nigeria and Iraq
Nigerian output posted OPEC's biggest increase of 100,000 bpd in February, the survey found, bringing the country closer to a target to lift output to 1.6 million bpd this quarter.
The second-biggest increase came from No. 2 OPEC producer Iraq, which according to Refinitiv Eikon data and other companies that track the flows has boosted southern exports this month.
The increase from the south outweighed a drop in northern exports via the Turkish port of Ceyhan, which were briefly disrupted by the earthquake that struck Turkiye and Syria.
OPEC's Gulf producers Saudi Arabia, Kuwait and the UAE maintained high compliance with their targets under the OPEC+ agreement, the survey found.
Among countries with lower output, the largest drop of 80,000 bpd was in Angola due to a relatively small export program in February and field maintenance on the Dalia stream.
Libya, Iran and Venezuela are the three producers exempt from OPEC cuts. Iran posted higher exports in February and Venezuelan output has increased slightly, according to the survey. Libyan output was steady.
The Reuters survey aims to track supply to the market. It is based on shipping data provided by external sources, Refinitiv Eikon flows data, information from companies that track flows, such as Petro-Logistics and Kpler, and information provided by sources at oil companies, OPEC and consultants.