Sustainable Cocoa Innovation Challenge Winners: Forging a sustainable future for Colombia's cocoa industry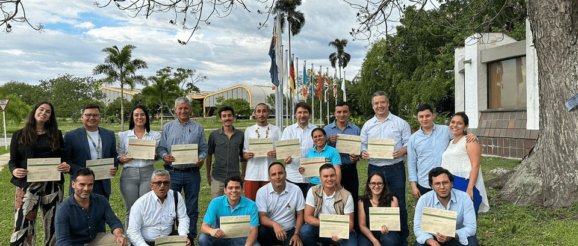 "The number of applications we received demonstrates the urgency of supporting those seeking to revolutionize the cocoa industry in a sustainable way" expressed Augusto Castro, senior scientist and leader of the Low Emissions Food Systems Research Theme of the Alliance of Bioversity International and CIAT and leader of the IKI-SLUS Project in Colombia, "We are excited about the potential we have seen in Colombia's entrepreneurs and the impact they can have on forest conservation and peace in the region."
The Sustainable Cocoa Innovation Challenge was more than just a competition; it represented a two-month acceleration program. Nine selected startups underwent rigorous coaching and technical guidance, enabling them to refine their innovations, create viable growth plans, and enhance the credibility of their solutions.
They are: Chocoguayabal, a company from Valle del Cauca made up of farmers who produce table chocolate, and CSA Colombia, Communities Sustaining Agriculture, based in Medellín.
 "This award means the possibility of continuing to co-create with communities that support agriculture at the national level. The experience was a challenge of growth and constant learning: to meet other projects and see how we could connect. We have to participate in these processes, we have to believe that what we are doing has value and that it is very important that other people know about it," said Andrea Cano, representative of the CSA Network.
"Winning this award is an opportunity to grow our business and improve the living conditions of the farmers who collaborate with us in the growth of our company. These types of challenges allow us to have tools for growth, scale business and relationships with other initiatives at the national and international level," said María Nidia Sánchez of Chocoguayabal, a company from the municipality of Riofrío, in Valle del Cauca.