SVVSD Innovation Center, Northrop Grumman offer STEM camps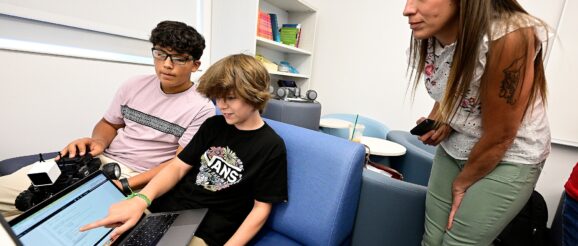 Students at St. Vrain Valley's Innovation Center got a hands-on lesson this week in artificial intelligence as they learned to program a DeepRacer self-driving car, then tested them on a large track.
"You learn by doing," said Dominic Herrera, a Longmont High School incoming sophomore. "It's race cars. It's competitive. I signed up for the race cars, and I got the key to how to program an AI. It's cool. You feel like a mastermind."
Added classmate Finn Bennett, an incoming eighth grader at Flagstaff Academy, "AI is the future. You have to understand it."
For the sixth year, the Innovation Center teamed up with the University of Colorado Boulder and the Northrop Grumman Corporation to offer a week of STEM camps for middle and high school students. About 80 students participated.
Along with four days of classes at the Innovation Center, students spent one day at CU Boulder for a campus tour, STEM programs visit and meet-up with graduate students.
Hudson Hickey, a homeschool student who took the AI class, said highlights included getting to control a robot at CU, "messing around" with a World War II Enigma decoding machine brought by a speaker, and learning about AI.
"The Innovation Center is just a cool place," he said. "You really get to learn a lot. Learning by doing is the best."
Friday, students showed their families what they learned and heard from Northrop Grumman's Calvin Pennamon. Pennamon, a director at the company's Boulder location, encouraged the participants to explore different STEM options to see what sparks their interest.
"We want you to see that technology is fun," he said. "Keep trying, keep learning a little bit more."
The week's classes were designed and taught by Innovation Center student designers, with support from teachers and Northrop Grumman volunteers. Two students from Niwot High's International Baccalaureate program also created and led a career exploration class for middle schoolers.
The AI class was led by Grayson Hubbell, a University of Colorado Boulder junior. He created a version of the class as a senior at Longmont High with a goal of introducing students to artificial intelligence technology and machine learning.
Students learned to embed artificial intelligence and reinforcement learning technologies into a 1/18th scale race car. Working in pairs, students then "trained" the car to run on a virtual race track circuit before trying it on a physical track.
"It's AI education through the reward of car racing," Hubbell said. "We spend a lot of time demystifying AI. If they can grasp the fundamentals of this technology, they will be well set up to be critical thinkers in the age of AI that's coming."
For the Career Quest camp, incoming Niwot High senior Reema Baishya was inspired by her engineer dad, who died in October. She and her teaching partner, incoming senior Lucie Kareus, said they wanted to give middle school students more information about potential careers.
They brought in guest speakers and led activities on careers that included engineering, design and diplomacy. For diplomacy, they brought in lawyers as guest speakers, then set up a mock city council activity with students debating a curfew law.
"It could help them figure out what to focus on in high school," Reema said.
Students also could take either cybersecurity fundamentals or advanced cybersecurity, as well as a class on socially assistive robots.
In the robotics class, students worked on programming several different robots. Devon Giles, an incoming sixth grader at Altona Middle School, said he was new to robotics and coding, but liked the experience.
"It's not necessarily hard, it's just time consuming," he said as he worked on coding that would have one of the robots deliver a "choose your own adventure" fairy tale.
Student designer Sienna Arellano, an incoming Niwot High senior, was the lead teacher for the cybersecurity fundamentals class. She said the first concept she taught was the difference between ethical and non-ethical hackers. Malware and hacking through social engineering were other topics.
"Cybersecurity is such a hot button topic," she said. "If they start learning these concepts now, they can get in that mindset."
Cooper Gordon and Hollis von Minden, incoming eighth graders at Flagstaff Charter Academy, both took cybersecurity classes.
"It's a field that definitely needs more people," said Cooper, who took the fundamentals class. "It's a very expanding market, and it's very fun."
Hollis, who took the advanced class, added that that the mini CyberPatriot competition at the end was a highlight, as was "getting the code to do what you want."
"It was a good way to spend a week," Hollis said.