Syntech Takes Center Stage at GITEX Global 2023: A Triumph in Tech Innovation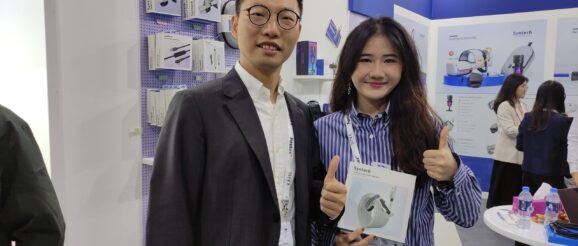 By Rafiq Vayani
DUBAI: In a grand debut at GITEX Global, the world's premier tech event, "Syntech" has taken the tech accessories market by storm. At the GITEX this year, Syntech's attendence was nothing short of extraordinary. Syntech's IT accessories continued to be a praised and drew the admiration of tech enthusiasts from different spheres of the industry. Following the launch of Quest 3, interest in Syntech's VR accessories skyrocketed. Visitors tested the products and were left awestruck. An exciting news was that Syntech unveiled their newest product category, the 'Creator Gadgets,' which drew a whole new niche of users, including filmmakers, gamers, and digital creators, into the Syntech community.
In an interview at GITEX, Syntech's CEO, Armi, expressed how pleasantly surprised she was by the turnout at the show. GITEX Global surpassed her expectations. Armi noted that Syntech has been selling its products online for the past 7 years, but seeing the passion people showed towards their products firsthand was truly exhilarating for her.
Furthermore, Syntech's founder, Edward was present at the event alongside the team. He provided valuable insights into what Syntech had in store for GITEX attendees this year. Alongside highlighting the range of accessories for VR and gaming consoles, Edward also spoke about Syntech's collection for electronic devices, including gadgets for laptops and smartphones. Most importantly, he shed light on the launch of Syntech's latest category of 'Creator Gadgets,' which include the brand new RGB Microphone and the LED Light.
USB C 4-in-1 Transparent Hub
In the world of gadgets, trends often come full circle. Syntech introduces a new hub that heralds the return of transparent tech, blending style and functionality. This hub is not just a device, but an embodiment of the fusion between classic design and modern utility. Similarly, it's not just a digital accessory; it's a reflection of personal taste and style.
Its core purpose is to elevate your work efficiency. With four USB A 3.0 ports, it opens up a world of connectivity, accommodating all your digital accessories with ease. The high-quality chip embedded within ensures stable functionality and broad compatibility, making it a reliable companion for various devices.
GlowMic: RGB USB Condenser Microphone
Meet the GlowMic: an all-in-one microphone that revolutionizes the game by fusing immersive lighting effects with professional-grade audio. At the core of the GlowMic is pro sound audio quality. It boasts a condenser microphone that captures your voice with exceptional clarity and precision, ensuring that every word and sound is transmitted with perfection.
Drawing inspiration from the grandeur of nature, such as auroras and rainbows, it seamlessly marries classic elements with modern spacecraft aesthetics. The aim is to visually immerse users in the digital world, creating an engaging and unforgettable experience.
Head Strap & Battery Pack for Quest 3
This head strap is born from the fusion of comfort and extended gaming enjoyment. It completes with a snap-fit battery pack boasting a substantial 10,000mAh capacity, not only offers enhanced comfort and stability but also extends your playtime.
Inspired by the success of their award-winning Quest 2 head strap, which proudly earned the esteemed Red Dot Design Award in 2023, this new iteration incorporates those learnings and elevates the gaming experience. Its ergonomic design not only supports your head but also complements the sleek aesthetics of Quest 3.
ClickLight: Mobile Phone LED Light
It presents a trifecta of versatile lighting modes—bright white, natural, and warm yellow—paired with 10 levels of brightness adjustment, ensuring that you have complete control over your lighting environment. Its remarkable 2000mAh battery guarantees uninterrupted illumination, making it the ideal companion for extended shoots.
Additionally, the tripod-ready design opens up new creative horizons, enabling you to achieve professional-level lighting setups on the go. Whether you're capturing moments during your travels, producing vlogs, conducting interviews, or live streaming, this light sets a new standard for on-the-go lighting solutions.
Directional Shotgun Microphone
This cardioid shotgun microphone is meticulously crafted to capture pristine sound directly in front of the microphone while effectively quelling unwanted background noise, making it ideal for any camera or mobile phone setup. Its compact design houses powerful features, including an upgraded shock mount for reduced handling and vibration noise.
Universally compatible with most devices featuring a 3.5mm audio jack, it offers plug-and-play convenience, with no need for batteries. Perfect for vlogging, YouTube videos, live streaming, filmmaking, interviews, and more, this stylish video microphone empowers users to capture professional-level audio wherever creativity takes them.
For more details about Syntech products, please visit https://syntechhome.com/.
The post Syntech Takes Center Stage at GITEX Global 2023: A Triumph in Tech Innovation appeared first on Biz Today.