Take a Look at the Award-Winning Dacor Kitchen Theater, Where Luxury Meets Innovation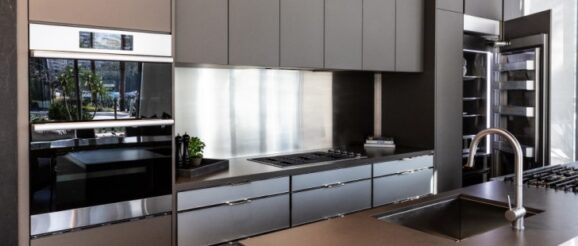 Since its founding in 1965, Dacor has continually sought to provide luxury appliance consumers with the best in product selection as well as in product experiences. With a continuous stream of beautifully designed, innovative products, Dacor, which was acquired by Samsung Electronics in 2016, has been continually setting the tone as well as the expectation for today's discerning consumer.
Ahead of the Kitchen & Bath Industry Show (KBIS) 2023 in Las Vegas, the National Kitchen & Bath Association (NKBA) has awarded Dacor its prestigious Innovative Showroom Award for the Dacor Kitchen Theater in Irvine, California.
Dacor's full-scale kitchen showroom in Irvine offers trade partners and consumers alike a first-hand immersive experience, with its industry-lauded products showcased in an exquisite environment designed to provide a feeling and atmosphere reminiscent of Californian homes.
▲ At the Dacor Kitchen Theater in Irvine, California, visitors are able to enjoy a hands-on experience of Dacor's appliances in a cozy, home-like setting.
Award-Winning Design That Pairs Luxury With Innovation
Dacor earned the NKBA's coveted award thanks to the unique aesthetics, innovative features and luxurious designs on display at its Irvine showroom.
The award Dacor has received, in the "Kitchen & Bath Design Centers" category, reflects the Dacor Kitchen Theater's ability to bring the brand to life by offering visitors elevated experiences that honor Dacor's history and brand mission.
A Design Narrative That Encompasses Past, Present and Future
As one of its distinguishing design features, the Dacor Kitchen Theater draws heavy influence from its Southern California roots, conveying a narrative of the brand's past, present and future.
The showroom's clean lines, simple geometry and use of subtle lighting help paint a picture of the Pacific Ocean and the Sierra Nevada Mountain ranges that bookend California. Bold curves in the designs mimic the California coastline while refined, brushed metallic finishes evoke a feeling of luxury, and rounded edges and stand-out textiles introduce warmth into the space.
Adding to the California motif, Dacor commissioned artisans local to the state to enhance the showroom's décor. From custom light fixtures by Siemon & Salazar to custom refrigerator panels designed by LA-based artist Alex Turco, the workmanship of local craftsmen truly provides the finishing touches to the showroom.
▲ The Dacor Kitchen Theater's cooking demonstration space offers visitors a truly hands-on experience with Dacor appliances.
The Dacor Kitchen Theater's professional cooking demonstration space adds an experiential aspect to the showroom. With it, the showroom can function as an educational and training space, allowing visitors to get hands-on with Dacor appliances for fuller, more immersive product experiences.
Furthermore, the venue provides a glimpse into how Dacor's luxury cooking appliances' exceptional materials and precision performance can elevate any consumers' kitchen.
A Showroom Experience With Versatility at Its Core
The richness of Dacor's designs is matched only by their versatility. The innovative, modular designs that are at the core of Dacor's products exemplify the brand's versatility, personality and ability to serve a variety of lifestyles.
Concealed doors and cabinetry throughout the showroom floor provide a clean and minimal canvas for the kitchen vignettes on display that highlight a variety of Californian lifestyles. The distinct vignettes bridge luxury with life in order to help connect visitors to Dacor's diverse yet cohesive lineup.
Throughout the showroom space, visitors are presented with three kitchen vignettes that showcase Dacor's diverse kitchen offerings. The first vignette was inspired by the city and harnesses a muted gold, brass and silver metallic palette. The second vignette combines durability with exceptional craftsmanship, and the third leverages natural light and greenery to create a scene that blurs the line between indoors and outdoors.
▲ Vignette 1 showcases Dacor's Contemporary appliances in silver stainless and uses a palette of muted metallics to provide a city-inspired design.
▲ Dacor's exclusive graphite stainless steel is showcased in a kitchen set-up reminiscent of a California costal kitchen.
Beyond their designs, Dacor products harness integrated technologies to provide consumers with even more versatility. Hidden touch control panels, Wi-Fi-enabled touch screens and Samsung SmartThings integration allow users to personalize their appliances in ways that truly cater to their lifestyles and habits.
The third Dacor showroom of its kind in the U.S., the award-winning Dacor Kitchen Theater in Irvine offers a showroom experience that goes beyond a mere product display. In addition to sharing the story of the brand's identity, the Dacor Kitchen Theater serves as the perfect venue for consumers to learn more about Dacor's products through unforgettable experiences.
Visit dacor.com to learn more about the luxury kitchen appliances being featured in the award-winning Dacor Kitchen Theater.