Teen Innovation Summit & Toyota Lexus Minority Owners Dealership Association Educate Teens on Auto Industry Careers – Motorcycle News Today – EIN Presswire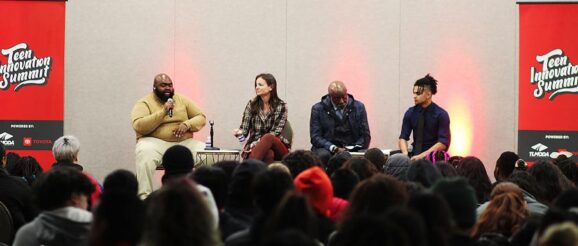 The panelists at the Teen Innovation Summit in front of over 500 Milwaukee area high school students // image by Andre Simmons
More than 500 high school students spent the day discovering and exploring career opportunities in the automotive industry
We need people that see what others don't. People who are interested in technology, electricity, marketing, sales—they can all work and be successful in the auto industry."
— Jim Colon, Marysville Toyota Dealer Principal and TLMODA President
— Jim Colon, Marysville Toyota Dealer Principal and TLMODA President
MILWAUKEE, WISCONSIN, USA, March 10, 2023 /EINPresswire.com/ — The Teen Innovation Summit and Toyota Lexus Minority Owners Dealership Association (TLMODA) along with host partner Automobile Dealers Association of Metro Milwaukee (ADAMM), hosted more than 500 multicultural high school students on Friday, March 3 for a day of discovery and exploring career opportunities in the automotive industry at the Milwaukee Auto Show.
The students heard from people in various positions within the automotive industry including Jim Colon, Marysville Toyota Dealer Principal and TLMODA President; Darrin Henry, sales consultant at Heiser Toyota; and Jessica Philips, general manager at Heiser Toyota. The panelists discussed on-the-job training, the various career paths available in the automotive industry, and how the current shortage of automotive technicians presents an urgent and large opportunity for growth and financial stability.
"Today's shops are not the automotive shops that you think of from the past," Colon told the crowd of young people. "Our shops are clean, they're well lit, it's like you're working in a different environment. But you're problem-solving, and that's what we need. We need people that see what others don't. People who are interested in technology, electricity, marketing, sales—they can all work and be successful in the auto industry."
According to a recent analysis from Boston Consulting Group, opportunities for job growth and market value in the automotive industry will hit many trillions of dollars in the next quarter century. To adapt to this anticipated expansion, fostering a talent pipeline with high schools will be imperative for the industry's survival. The Teen Innovation Summit stands in the space between high school and college, where students can gain interests in and explore career paths in the fields of STEM, creative, business, and at this iteration of the event, automotives.
The Teen Innovation Summit taps experts in these fields to offer their perspectives and stories to students who may be considering less traditional paths to success while in a fresh, vibrant environment created just for them. 20-year-old upcoming social media influencer, Adonis Medina, moderated the panel discussion while DJ O, a veteran deejay with two decades of experience spinning in Milwaukee kept the energy high playing today's popular music. Attending students also toured the auto show before heading back to their schools.
The next Teen Innovation Summit will take place in Chicago on Friday, April 14. For more information, visit www.teeninnovationsummit.com.
About the Teen Innovation Summit
The Teen Innovation Summit is an award-winning educational nonprofit organization created by Emerge Next Leaders, NFP, an experiential education company that designs platforms for diverse and ambitious high school students to explore career pathways in creativity, technology, and business. www.teeninnovationsummit.com
About TLMODA
The Toyota/Lexus Minority Owners Dealership Association (TLMODA) represents the diverse dealers of Toyota and Lexus. We exist to provide strategic support, resources, and opportunities for our member dealers and their team members, while also facilitating strong relationships with corporate leadership. Our goal is to elevate ethnic minorities in the auto industry and to create a dealer body that accurately reflects the diversity of Toyota and Lexus customers. Learn more about us at www.tlmoda.org.
About ADAMM
In addition to presenting the Milwaukee Auto Show each year, the Automobile Dealers Association of Metro Milwaukee actively promotes workforce development for southeastern Wisconsin's new car and truck dealers who are ADAMM members. www.adamm.com
Ashley Mason-Greene
Evergreene Group
[email protected]