Textile suppliers to turn spotlight on innovation at Interwoven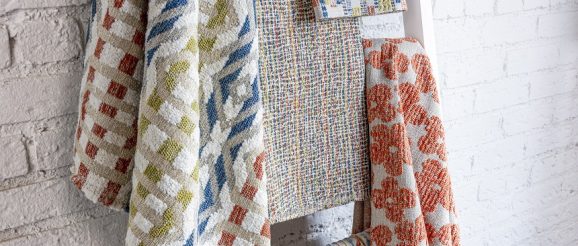 High Point, N.C. — Textile manufacturers are bringing nature-inspired hues and sustainability strategies to this fall's 2022 Interwoven show, Nov. 13-16.
As consumers look for peace of mind and calming comfort throughout their homes, fabric introductions are showcasing grounding neutrals, sky blues, botanical greens, complemented by bold designs. Additionally, many showrooms will also be telling a sustainability story to address growing consumer preferences for eco-friendly products.
Covington Fabric's Aziza is globally inspired with a woven velvet jacquard carpet design.
Covington Fabric and Design has three key introductions to showcase:
In an exaggerated textured boucle that rivals the look and feel of chunky wool, Wooly Booly features heavy visual appeal with a soft finished hand and durable construction in eight colors.
Composition is an all-over contemporary floral print that emulates a mosaic piece of artwork. Printed on 100% two-way slub cotton ground for design surface interest and texture, the nondirectional design layout is offered in three colorways that were inspired by natural stone and beach glass palettes.
Aziza is a globally inspired woven velvet jacquard carpet design.
"The fabric has achieved varied surface dimension with dramatic highs and lows through the design's surface," said Stefanie Wotton, vice president marketing and contract services, Covington Fabrics. "We kept the palette of Aziza very monochromatic but bold for easier decorating possibilities. This handsome carpet design is available in three colorways that can bring a touch of worldly inspiration to any room décor."
Crypton Fabric's key launches will include its Wabi Sabi and Performance Recycled Cottons.
Wabi Sabi is a nod to the storied tradition of blue-and-white porcelain and the concept of juxtaposing the perfect with the imperfect. This idea was embraced by Crypton's design team as they decided this collection's patterns and colors, as well as in its eco-friendly details. Wabi Sabi textiles are woven at Crypton Mills at Broad River and are Greenguard gold certified for sustainability.
Continuing in its commitment to sustainability, Crypton's Performance Recycled Cottons are an ode to honoring the planet with its 50% to 70% usage of cotton from the garment industry that would have otherwise been destined for a landfill.
"It is more about a combination of sustainability; it is not just about performance in the old sense of it. The market is starting to demand a greater sustainability story, so we have started to utilize recycled cottons," said Jack Eger, senior vice president, Crypton. "We have recycled cotton that we have had in our line for two years, and we are continuing to build on that story. Fabrics in this line use cotton from fast fashion and fabric waste that goes through sorting, cleaning and is respun into new yarn."
Valdese Weaver's Sustain Performance Fabrics Cloud Yarn has a low carbon footprint and is cleanable using soap and water or diluted bleach.
Valdese Weavers also sees the growing importance of sustainable effort in its products. Its Sustain Performance Fabrics Cloud Yarn is designed to be durable, have a low carbon footprint and is cleanable using soap/water or diluted bleach solution. The palette is soft, serene and naturally inspired with hues like creams, sand, pale grays, charcoals and chambray.
"We are really excited to highlight our growing sustainable product offerings, especially our Seaqual + InsideOut Performance Fabrics," said Christy Almond, vice president product development and marketing, Valdese Weavers. "We are committed to growing our sustainable toolbox, so we are offering the most innovative yet beautiful products that minimize the impact on the resources we share."
In addition, Valdese is introducing a spunky collaboration with Brooklyn-based artist Kaite Merz, who not only created two statement murals for Valdese's newly renovated conference space, but also artwork for some new Seaqual Initiative fabrics from upcycled marine plastic. These graphic designs will be featured in Valdese's Interwoven collection as finished upholstery/pillows, and one of Merz's original series of panels will be on view at the Valdese Hamilton showroom as well as some of her licensed skateboard designs.
Ultrasuede is keeping bold visuals in mind this fall as well with the addition of 14 new colors to its Ultrasuede HP collection of upholstery weight fabrics in themes that include modern coastal and vibrant earth.
The updated coastal selection is suitable for casual and relaxed interiors with gray undertones conveying a modern splash of sophistication. In lieu of the classic blue-and-white theme, Ultrasuede will feature colors such as Dark Navy, Blue Daisy, Silver Gray and Ice Blue paired with shades such as Lilac, Rose Quartz and Parchment.
For a brighter take on earth tones, sunset and sienna shades are punched up in colors of Berry Rose, Cove and Sunflower that are balanced with other nature-like hues such as Carbon Gray and Lotus Green.
Furthermore, Ultrasuede's parent company, Toray Inds., is committed to addressing global environmental challenges through plant-based technology, which is now used to produce Ultrasuede. Toray began by replacing 14% of the material's full construction with plant-based polyester content and has grown that figure to 30% this year with a goal of using 100% plant-based polyester in the future.
STI Fabric's Color Brigade Collection plays with primary colors and the frenetic energy of mid-century modern design found in 60's and 70's fabrics.
STI Fabrics is bringing two new collections full of different boucles to the front of its showroom.
The six fabrics in the Global Transitions Collection by Glen Read Design takes inspiration from the earthy colors and designs in African mud cloths, aboriginal sand paintings, and the Navajo blankets of the early 19th century.
"We are celebrating the genius of these ancient cultures and their techniques in weaving while breathing new life into the genre," said Glen Read, design director, STI. "We've hoped to achieve this end by using highly innovative and highly sustainable component yarns to create dazzling new fabrics with a nod to the past and an eye on the future."
The Color Brigade collection by Glen Read Design features five fabrics and takes inspiration from the playful quality of primary colors and frenetic energy of mid-century modern design found in '60s and '70s fabrics. This collection also carries the Revolution performance and sustainability story.
Milliken Textiles is back this November with new fabrics to explore in the re:Discover Collection, which debuted at the spring 2022 Interwoven show. Adding a variety of options that enhance the global appeal of the collection, the new fabrics are inspired by tribal weaves to bring a spirit of adventure into the home. The collection's new color palettes and textures express diverse landscapes from desert dunes to seacoasts.
"Interwoven is always such an exciting few days for our team at Milliken. It's a great opportunity for us to get market feedback, and we have some really exciting new patterns in our re:Discover Milliken collection to show off," said Maida Cameron, director of design, Milliken Décor.
"Our design team put a lot of effort into identifying the right patterns, textures and colors for the marketplace," she said, "and it's going to be great seeing people's reaction to them in-person. Of course, it's always a pleasure to reconnect with customers and meet the new faces in the industry. As we all continue to recover from the past few years, we're hopeful for a great turnout."
See also: